- Alexandria Vera admitted that she has been in a sexual relationship with her 13-year-old student over eight months ago
- Vera terminated her pregnancy after a child welfare investigator asked questions about her relationship with her student
- The 24-year-old former teacher now faces continuous sexual abuse of a child
An eighth-grade teacher who got pregnant after engaging in sexual intercourse on a daily basis with her 13-year-old student has turned herself in earlier this month, police announced.
24-year-old Alexandria Vera supposedly revealed to school district officials that she was in a sexual relationship with her tween student since September, after the two had begun flirting during a summer school session. Vera had given the student her number on Instagram after he did not attend class and their relationship started from there.
The boy asked her if they could casually hang out, and she agreed. The two drove around in Vera's car, kissed, and eventually had sex which happened on a daily basis. Their first sexual encounter was when she dropped him off at his house. Since his parents were away then, they went back to her house instead.
READ ALSO: Sugar daddies paid for my tuition, law graduate shares
Police documents showed that the Stovall Middle School teacher was pregnant with his child last January.
According to the court documents, their relationship was not a secret - even in school. The boy's parents also did not object to their relationship, and according to Vera, they were actually 'very supportive and excited' when she divulged her pregnancy.
However, the pregnancy has been terminated - she had started panicking after Child Protective Services arrived unannounced at the school last February. The probable cause document said she aborted her pregnancy after a child welfare investigator started asking her questions about her relationship with her student.
As the investigators closed in on her, she decided to run before the police had an opportunity to arrest her. On June 1, authorities confirmed that Vera had returned and surrendered to the Montgomery County police.
She is now facing charges of continuous sexual abuse of a child. Brady Fitzgerald, Montgomery County Sheriff's spokesman, said Vera posted a $100,000 bond and was subsequently released.
READ ALSO: Our reader's letter: "I don't want to loose my boyfriend but I have a sugar daddy"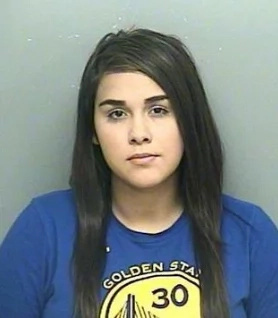 School officials have announced that Vera has been dismissed from her job. Aldine ISD, the organization that runs Stovall Middle School, has issued a statement proclaiming that they have been informed of the charges, and that they immediately moved to dismiss her from the school as well as place her on administrative leave.
"The safety and security of Aldine ISD's students and staff remains a priority of the school district," they said.
READ ALSO: [WATCH] Transgender teen: 'We are not a threat'
Source: Kami.com.ph