- The incoming president claimed that Cayetano and Pimentel are his good friends and remained neutral about their conflict
- Fellow senators Miguel Zubiri and JV Ejercito believed that all of them are allies in supporting Duterte
- Duterte's recent statement contradicted Pimentel's earlier story to work together with Cayetano 
According to JV Ejercito and Miguel Zubiri, their fellow senators should just join forces and stop fighting each other for the Senate presidency post.
"I hope [Alan Peter Cayetano and Aquilino "Koko" Pimentel III] work things out. Anyway, they are in the same camp. I feel we are all allies because we all support President Duterte," Sen. Ejercito told the media on Wednesday.
Zubiri, for his part, said that he had met with Pimentel and Cayetano on separate occasions in Davao City and told them both to converse with each other and join forces for the common good.
READ ALSO:  Pimentel to set agenda with Duterte in Davao City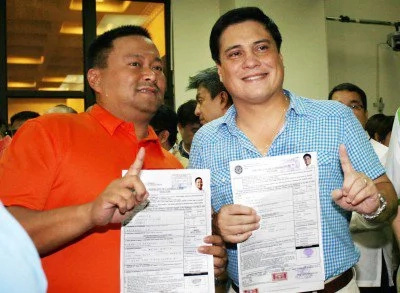 On the other hand, President-elect Duterte said that Senators Cayetano and Pimentel should fight with each other to find out who should become the Senate president of the 17th Congress.
"Both of them are my friends and neutral ako. Sabi ko, 'fight it out'," Duterte said during a forum at the SMX Convention Center attended by policy makers and businessmen.
(Both of them are my friends and I am neutral about who should get the position. I told them, 'fight it out'.)
READ ALSO: Cayetano awaits Du30's word before joining Koko
Sen. Cayetano was Duterte's defeated vice presidential running mate during the May 2016 elections while Sen. Pimentel is the president-elect's party mate at the Partido Demokratiko Pilipino-Laban (PDP-Laban).
However, Pimentel told a different story earlier about the incoming president's opinion on who should be the next Senate leader.
"He supports me as Senate President, and he appreciates the fact the majority was organized and the committees were assigned pursuant to principles and not transactions," Pimentel said in an earlier interview.
Pimentel also stated that Duterte actually wanted them to work together instead of fight.
"What he [Duterte] said was that Alan and I must be together," he said. The senator added that he already had the signatures of 14 senators backing him as the next Senate President.
READ ALSO: Koko vs. Cayetano: Who does Rody favor?
Source: Kami.com.ph