- Today, June 21, Metro Manila is tasked to participate in a metro-wide earthquake drill
- Only few employees in the House of Representatives participated
 - Congressmen ignored the drill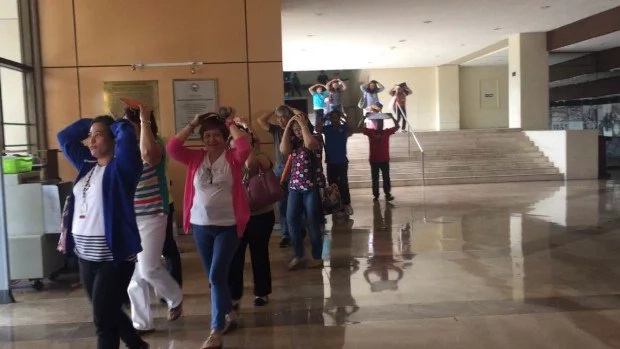 Only a small number of employees in the House of Representatives cooperated in the 2016 Metro Manila earthquake drill, simulating a situation having a 7.2 magnitude earthquake. No representatives participated.
When the bell rang at around 9:00 a.m., only a few workers left their work and went out of their respective offices doing the ordered 'duck, cover, hold'. They came to the lawn that was intended as a temporary evacuation center located just outside the plenary hall. The drill lasted for only ten minutes.
Ambulances and stretchers were not available during the drill, but the employees were provided with emergency kits which contained a whistle, food, and water for survival.
READ ALSO: Phivolcs: 2 volcanic eruptions recorded
This year's drill is totally in contrast with the quake drill in 2015 when employees acted as if they are the representatives who were evacuating from the dangerous premises. Today, there are no activities or scenarios where workers can participate. They were even seen laughing while doing the 'duck, cover, hold' posture.
According to House Secretary General Marilyn Barua-Yap, during the 2015 quake drill, there were eight lawmakers and twelve other employees who pretended to be 'dead' in a scenario. There were medics, medical and rescue equipment, and rescue workers last year so that those who were injured would be ensured urgent medical assistance. The 2015 drill lasted for an hour, from 10:30 a.m. to 11:30 a.m.
Yap earlier announced that there might be another earthquake drill that involves old representatives who might experience difficulties evacuating.
The House of Representatives complex is located near the West Valley Fault. This fault line is 100 kilometers long, traversing Quezon City, Marikina, Bulacan, Rizal, Cavite and Laguna.
RELATED: WATCH: MMDA officers shake it out for MMShakeDrill
Source: Kami.com.ph