- Incoming President Rodrigo Duterte's inauguration will be broadcast via Facebook live
- Martin Andanar, incoming Communications Secretary confirmed that Facebook has agreed to help his broadcast team
- The whole event will be covered in the live broadcast including pre-oath activities
On June 30, President-elect Rodgrigo Duterte will be officially declared as the President of the Philippine Republic, and his inauguration will be the first ever presidential inauguration to be streamed live via Facebook.
According to reports, Incoming Communications Secretary Martin Andanar said that they have talked to Facebook about the broadcast, and they have agreed to help Andanar's team, "We talked about how Facebook can help us technically in streaming the entire inauguration. We also talked about how important this is for the millions of followers of the president-elect."
The social media has played an integral role in the campaign of the President-elect.
READ ALSO: Gina Lopez accepts Duterte's offer to head DENR
Andanar said that most of the media coverage of Duterte was from Facebook. "This is going to be the first formal presidential inauguration that will be streamed by Facebook," he added.
The meeting with Facebook happened on Tuesday night, June 21, at the Marco Polo Hotel. Facebook was represented by Facebook public policy head for Asia Pacific Elizabeth Hernandez in the meeting.
Also in attendance were Nic Gabunada from Duterte's camp, who also led the President-elect's social media campaign, incoming Presidential spokesman Ernie Abella, and campaign finance head Paul Domingez.
Facebook organized the meeting after Andanar contacted them a few weeks ago.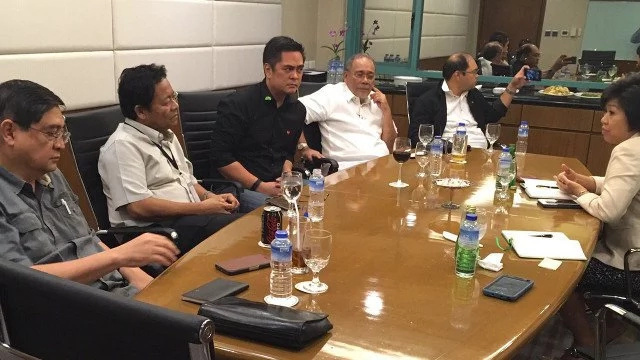 Andanar also wants to broadcast the pre-oath taking activities including the send-off ceremony of the outgoing president Benigno Aquino III, but Facebook live videos have a time limit of 90 minutes.
He said however that Facebook is looking into the possibility of tweaking the code just for the live broadcast of the Inauguration. He added that Facebook has offered to provide technical assistance, and also help in the promotion of the event.
RELATED: Only PTV 4 and RTVM can enter Duterte's inauguration
According to Andanar, his team might create a Facebook page where the Facebook live will be uploaded. The video might also be available on "Presidential Broadcast Staff-RTVM" Facebook page.
The broadcast will be done in English to cater to a global audience.
Source: Kami.com.ph