- Senator Aquilino "Koko" Pimentel III said that Duterte favors him as the next Senate leader
- Duterte has urged Pimentel and Cayetano to work together peacefully
- The senators of the 17th Congress will become more efficient than before
According to Senator Aquilino "Koko" Pimentel III, incoming President Rodrigo Duterte favors him to become the next Senate President of the 17th Congress instead of the latter's defeated vice presidential running mate Senator Alan Peter Cayetano.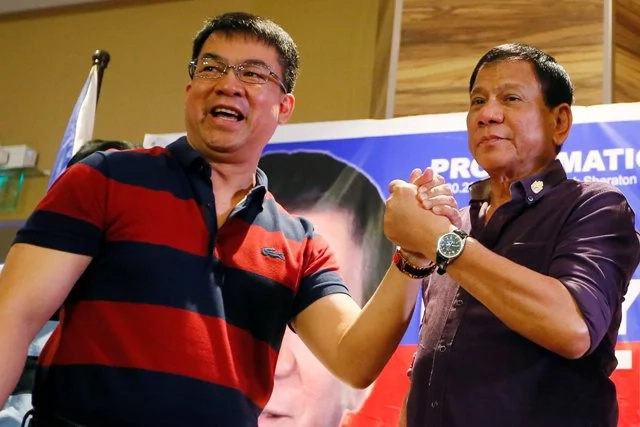 "He supports me as Senate President, and he appreciates the fact the majority was organized and the committees were assigned pursuant to principles and not transactions," Pimentel told the Inquirer in a phone interview.
Pimentel – president of Duterte's political party PDP-Laban – said that Duterte expressed his support for him during their meeting on Monday in Davao City. The senator also showed Duterte the draft resolution with the signatures of 14 senators who are backing Pimentel as the next Senate leader.
READ ALSO: Pimentel next Senate president – Drilon
Pimentel added that Duterte agreed with the plan of the senators to be united with each other based on virtues and principles instead of basing it on expected trade-offs and rewards, citing that the committee chairmanships for the senators were decided on the members' experience and expertise instead of basig it on friendly ties.
"So if we liken the Senate to a machine, it is an efficient machine," the senator explained.
As for the rivalry between Pimentel and Cayetano with regards to the Senate leadership post, Duterte urged the two to work together instead of bicker with each other.
READ ALSO: Cayetano awaits Du30's word before joining Koko
"What he [Duterte] said was that Alan and I must be together," Pimentel added.
The presumptive Senate President also said that he has invited Cayetano to become a member of the Senate majority or the super coalition.
During their meeting, Pimentel was also able to mention to Duterte his plans for a tax reform package. Duterte also invited him and other senators to join the briefing from security experts regarding the West Philippine Sea territorial dispute.
READ ALSO: Cayetano confident on winning Senate presidency
Source: Kami.com.ph