Gina Lopez accepts Duterte's offer to head DENR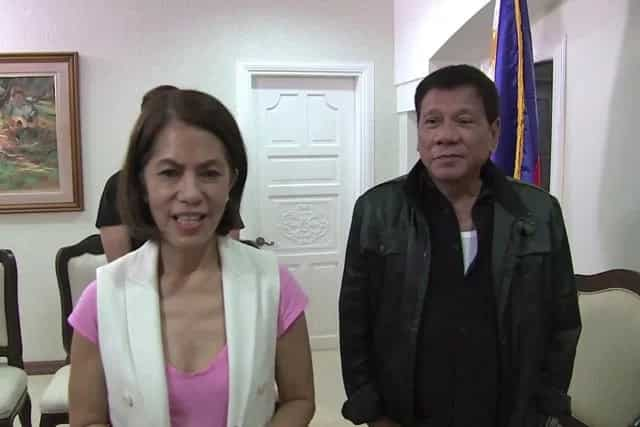 Known anti-mining advocate Gina Lopez accepted the offer of President-elect Rodrigo Duterte to be the secretary of the Department of Environment and Natural Resources (DENR) and promised to not only protect the environment, but also to eradicate poverty.
"After much introspection, I decided to accept it (DENR post). Let's see what happens," Lopez told reporters late Tuesday afternoon, a day after she was personally offered the post by the President-elect.
Asked what her response to Duterte was after she was given the controversial post first offered to the Left wing groups, Lopez said she told the incoming President, "I'm deeply honored since it's a controversial decision; that you have decided to trust me. I give you my firm commitment that I will do everything that I can and it's not only to protect the environment [but also] to eradicate poverty."
Lopez, who heads the ABS-CBN Foundation and is the daughter of the late media tycoon Eugenio Lopez Jr., considers herself as "not the usual choice" for the DENR post because of her very vocal stance against mining.
SEE ALSO: President-elect offers Gina Lopez DENR post
In a statement, the Chamber of Mines of the Philippines (COMP) stressed the need for a DENR secretary who can balance economic growth and environmental protection.
"We stress the need for a Department of Environment and Natural Resources secretary who has a solid background on the intricacies of natural resources management, and someone who is able to balance economic growth and the needs of the people with that of environmental protection, the protection of indigenous communities and the society," read the statement of COMP, which is an association of miners including the Philex Mining Corp. chaired by Manny V. Pangilinan.
"The DENR needs a leader who understands the science and the will to enforce the sound policies in managing the country's rich resources; a secretary who will be consistent to President Duterte's development vision," the statement added.
Despite this, Lopez said she was open to speaking to pro-mining groups to let them hear her "suggestions."
Lopez noted how the small ones like the farmers and fishermen were at the losing end of mining activities in the country. "We can't build an economy based on suffering," she said.
She also warned corrupt officials in the department, noting that it is corruption that leads to the deterioration of the environment.
"We'll clean the ranks of DENR. Those accepting bribes, your days are over. Stop it. No corruption is acceptable," she said.
Source: KAMI.com.gh