Do nothing and be a sports champion in South Korea
- South Korea popularizes a new sport – win by doing nothing and having the steadiest heart rate at the end of 90 minutes
- Shin Hyo-Seob, a local rapper in South Korea, wins this year Space Out Competition
- WoopsYang, the visual artist behind the event, confesses to have experienced burnout syndrome which later brought out the competition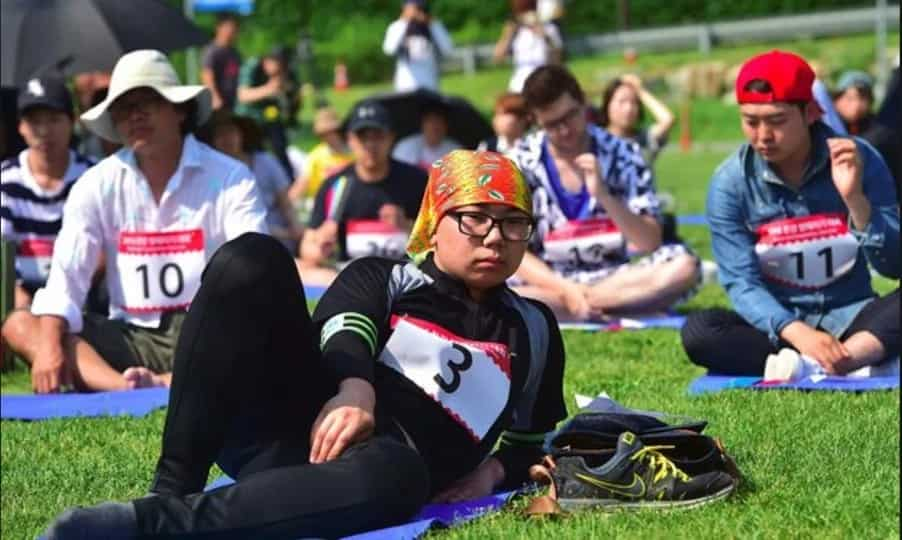 Who says athletes are the only ones who can achieve the sweet taste of victory? Calling all lazy bums chilling at home out there, this sport is for you!
South Korea's game changing annual Space Out Competition took place a few weeks ago at Ichon Hangang Park in Seoul with about 70 people who partook in. The rules were fairly simple – do absolutely nothing within an hour and a half. Any sort of activity is prohibited; no talking, no laughing, no using of cellphones, no sleeping! There were a few exceptions, of course.
The contestants may raise one of several cards to make a request – whenever they feel the need to go to the bathroom, or simply have a cup of water. Contestants' heart rates were checked every 15 minutes, and the person with the steadiest one comes out as the victor of the competition.
The title this year has been claimed by a local rapper - Shin Hyo-Seob, known as Crush. He was so determined to win, he admitted to even practicing at home.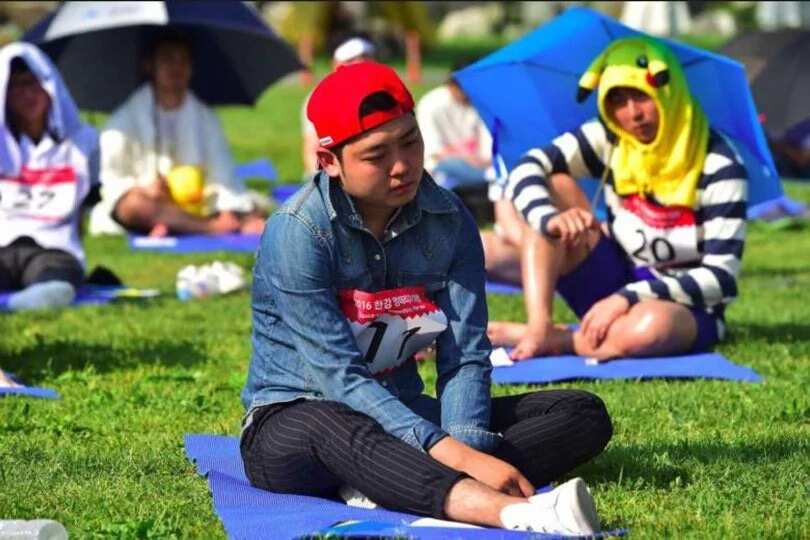 This is the brainchild of WoopsYang, who has organized the event since 2014. It all started when she claimed to be suffering from burnout syndrome, but would feel anxious whenever she wasn't doing anything productive.
"I thought to myself, we would all feel better about doing nothing if we did nothing together as a group," WoopsYang realized soon after.
The competition proved to have gained popularity. WoopsYang shared that there were originally 2,000 people who signed up for this year, and that she had to hold qualifying rounds to select the final 70. They even held an international Space Out Competition in Beijing last year with about 80 participants.
READ ALSO: LOOK: A new way to earn good money in South Korea.
Albeit sounding so simple, the competition actually has a bigger purpose – to show the importance of rest. Apart from being a competition, WoopsYang also considers her work a performance art. This year's event occurred during a busy time of the day in a busy place in the city, emphasizing the stillness of the competition compared to the disarray surrounding it.
WoopsYang acknowledges that she's not bothered on how other people perceived her art, "I'm content with it being a form of entertainment. I think I've provided an entertainment option that doesn't involve technology or money."
RECOMMENDED: LOOK! Dogs in South Korea undergo plastic surgery
Source: KAMI.com.gh