John and Isabel welcome Lily Feather to the Christian world
- Lily Feather was christened last Father's Day, June 19
- Family and friends were present on the special occasion
- Husband and wife John and Isabel were grateful for the blessing and shared the event to fans through Instagram
Celebrities John Prats and Isabel Oli's two-month old baby girl, Lily Feather, was welcomed with open arms to the Christian world last Sunday, June 19.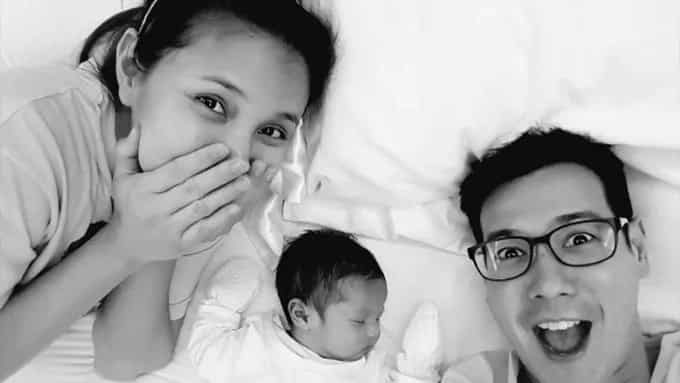 The husband and wife did not only celebrate Father's Day the previous weekend, but their child's christening as well. Lily Feather rejoiced the event with family and friends.
READ ALSO: John Prats, Isabel Oli want more babies ASAP
Several photos from the gathering were uploaded on Instagram by Prats' and Oli's guests.
Some of the people who attended the special occasion were Sam Milby, Rayver Cruz, and Angelica Panganiban who are John's friends.
Camille Prats, John's sister was present as well. Isabel's friend, Chynna Ortaleza, who is also expecting a child of her own, was there to celebrate as well.
John admitted that their lives had experienced a huge change when Lily Feather entered their lives.
READ ALSO: 12 most adorable celebrity babies you have to see!
He and his wife, Isabel, were always excited and had been rushing home from work to see their baby daughter. He claimed that stories when having a baby were true – sleepless nights are present but he didn't complain, he even enjoyed it, saying, "Puyatan talaga, pero sobrang sarap na puyatan."
The father of baby Lily Feather shared that he cherishes every moment spent with his family.
It was only a little over 2 months after Lily Feather was born when she was christened. Her parents had also shared their happiness through Instagram posts to their fans since then, with John expressing his thoughts and experiences of being a new father.
RELATED: 19 #HotDaddies in local showbiz
He told that he was more than willing to work harder and not complain about the exhaustion it might bring; dedicating all of this for his family. The actor was also grateful to God for the blessing and for the safe delivery.
He was also appreciative of fans who offered their congratulations and prayers to his family, ending the caption with "#WeAreTheDynamites #LiFe".
RECOMMENDED: 10 Filipino celebrities who are proud to be retokados or retokadas
Source: KAMI.com.gh