Netizens praise these traffic enforcers; here's why
EDITOR'S NOTE:
A netizen posted on Facebook his chance encounter with four Quezon City traffic enforcers. J.P. Mercado shared on June 21 how his supposed unlucky day while driving in the middle of Katipunan Avenue went the reverse. Know why netizens can't help but admire and praise the good deed of these men. Truly, "not all angels have wings. Some of them have uniforms. And bikes."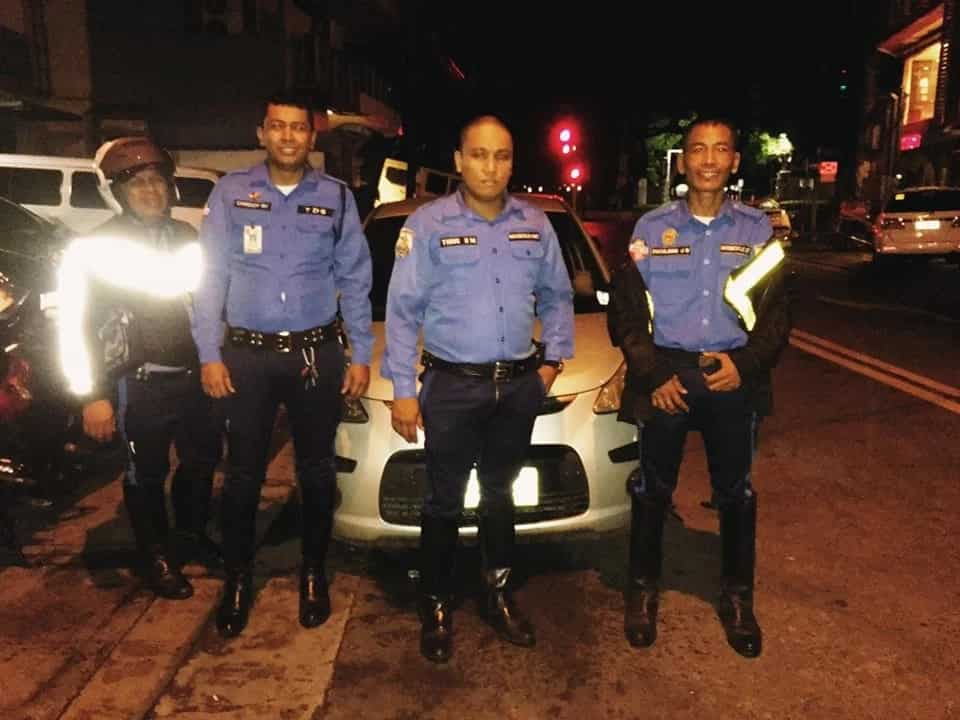 Here's the story that turned J.P. Mercado's bad day around, earning more than 21,000 likes and almost 4, 000 Facebook shares as of press time:
It was a quarter to 3 AM. And there I was, right smack in the middle of Katipunan Avenue, just a kémbot and a half away from home. But my car was stalled and wouldn't start.
Witching Hour. With no angels in sight. [Not yet, at least. I'll get to that.]
Green. Yellow. Red.
Green. Yellow. Red.
I was at the Ateneo Gate 3 intersection, and I was a sitting duck. I watched the stoplight change colors helplessly as cars and trucks honked at me and switched lanes with almost audible irritation, despite my hazard lights being on.
All my dashboard's indicator lights would light up when I'd try to start the car too. I wasn't sure what was wrong. Maybe my week-old battery was faulty? What was that smell?
At this unholy hour, I prayed aloud, asking for my car to start and get me to the closest gas station, which was the Petron at the C.P. Garcia intersection, just around half a kilometer away.
I kept looking around for MMDA officers. I knew that once they spotted me, it was game over.
Sure enough, after around 10 minutes of fretting, and an incoherent call to Motolite's hotline, I saw MMDA officers on the other side of the road.
They were coming for me.
I felt that I was in serious trouble, and I accepted my fate as I watched the MMDA officers get off their bikes.
All my fears, however, melted away as soon as one of the officers gave me the friendliest smile one could ever hope for at that time of night and said, with a concerned and consoling laugh, "Sir, ano pong nangyari?"
I told them how the car stalled, while confessing that I knew nothing about cars, and so they asked me to open up my car's hood to see what was wrong.
When we opened it up—which I should have done in the first place—, we discovered that my car's radiator cap had popped off, probably because it wasn't screwed on properly, they surmised. So it definitely WASN'T the battery.
They asked if I had bottled water with me. I remembered that I didn't get to replace it the last time—which I also should have done—, but I told them that there was a 7-Eleven just across from where we were.
Before I knew it, two of them were pushing my car from behind as I steered with the engine off and the car set to neutral, and the others blocked incoming traffic as we made our way left, crossing the intersection.
I dashed inside 7-Eleven and got a 6-liter water bottle. They were all still there as I got back, and they put the water in and waited with me for the engine to cool a bit.
While all this was happening, they all talked to me. Somehow, I felt at ease. I felt safe. And I felt that they weren't doing all this just so they could extort me. Their smiles were genuine, without the scheming glint I feared I'd see.
When all 6 liters had gone in(!), they had me start the car. And boy did it start! [I called Motolite to say that all was well already.]
I gushed with gratitude. They all began to merrily hop on their bikes and call it a day, but I couldn't resist giving them a nominal amount for their trouble. After all, helping me out wasn't exactly their job, but they went out of their way—literally stopping traffic in the process—to help me.
They all refused the money! Not once, not twice, but thrice! But I insisted because it felt right to me. I know that it's not something that they should expect—which they didn't—but I felt that they deserved a small token of appreciation for doing something they were under no obligation to do.
I also requested for their names, and they laughed as I asked to take their picture. "Ilalagay ko sa Facebook!" I told them.
So here they are: Messrs. Bobby Caindoy, Juan Pagulayan, Alden Pisebre, and Rodelito Tibus.
These are the men who chose to help me with no thought of reward. These are the men who made me feel safe throughout the entire thing, dispelling all my unfounded fears. [They are also men who thought that I was still a student, bless them!]
I thanked them again profusely after the impromptu photoshoot, and I watched as they got on their bikes and sped away, disappearing into the night whence they came.
I guess not all angels have wings. Some of them have uniforms. And bikes!
RELATED: LOOK: 7 ways to turn a bad day around
Source: KAMI.com.gh