- Two young Chinese students had sex on the concrete pavement
- They were asked to stop by guard but they remained adamant
- Male student denies allegations despite video proof while girl pleaded guilty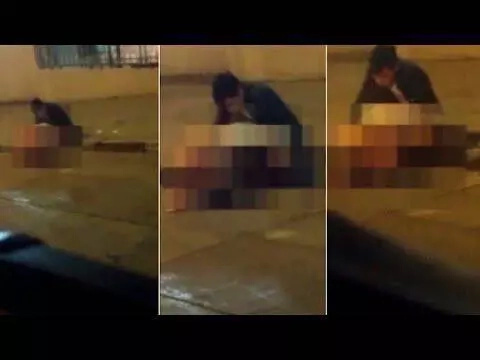 Another controversial Chinese scandal has been caught on video. Just yesterday, we wrote about a naked woman begging for sex to strangers on the streets. Now, we bring you news about two young students from China having sex on the streets!
The male student is Yang Hao who is only 19 years old and his partner is Wu Xinyi is an 18-year-old first year student in Polytechnic University.
According to reports by-standers, the two were going on it in the wee hours of the morning. Yang undressed his partner on the streets then they proceeded to have sex. They were so engrossed in each other that they didn't notice people watching and filming them.
READ ALSO: WATCH: What it's like at the Sex Mountain
A few minutes after they started having sex, a security guard approached them to shoo them away. The two students were so filled with lust that they didn't listen to the guard.
With no other choice, the guard notified the police as the two continued to have sex. After the guard gave them warnings, the two just stayed there but this time Wu gave oral sex to Yang.
The police didn't arrive on time. When they came to the scene of the crime, the two were already done. With no basis or evidence, the police officers weren't able to do anything.
READ ALSO: In this city, having more than 3 girlfriends is a norm. Women even pay for the dates
The next day, however, their sex scandal was posted online and the police now have proof so they arrested the male student.
The female student was only arrested last week because she was on vacation. Initially Wu and Yang both pleaded not guilty, but just after a few hours, the female student changed her plea to guilty.
Yang has bailed but he will still have to undergo a trial on August.
Watch the video that got them both in trouble:
RELATED: WATCH: Naked woman on the street begs for sex
Source: Kami.com.ph