- ABS-CBN Lingkod Kapamilya Foundation chairperson Gina Lopez was personally offered to be the secretary of DENR by the incoming president
- Lopez said that she will seriously consider the offer
- Duterte has previously offered the position to the Left
Incoming President Rodrigo Duterte has offered the ABS-CBN Lingkod Kapamilya Foundation chairperson and anti-mining advocate Gina Lopez a position in his cabinet as secretary of the Department and Natural Resources (DENR).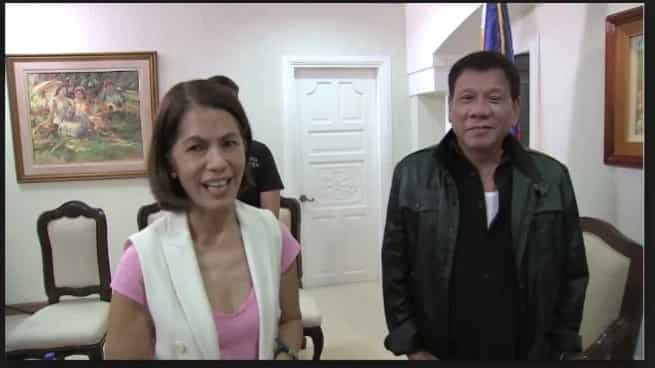 In a video released by state-run broadcasting station Radio TV Malacañang (RTVM), Duterte said the he indeed offered the position to Gina Lopez.
RTVM released the video to the media on Monday evening, June 20. The broadcasting station said that the video was taken earlier that day.
READ ALSO: Zarate is communists' choice for DENR post
The ABS-CBN Lingkod Kapamilya Foundation chairperson, who is also the daughter of the late ABS-CBN chairman emeritus Eugenio Lopez Jr. said that she's "honored with the trust given", and that she would seriously consider the offer.
This was despite the television channel's image of being anti-Duterte particularly for the supporters of the incoming president. The perception was created especially when the TV channel broadcasted a negative political advertisement paid for by Senator Antonio Trillanes IV.
READ ALSO: Filipino stars react on anti-Duterte ad
Gina Lopez is an adamant critic of mining activities and coal-fired powerplants. She has also been known for her campaign against coal mining in Semirara Island, Antique. She has led a cleanup operation in Pasig River, and has supported eco-tourism efforts in various parts of the Philippines.
President-elect Rody Durterte had promised the Left the DENR post. There were reports that it was Bayan Muna partylist Representative Carlos Isagani Zarate, a Davao-based human rights lawyer, that was the Left's top choice for DENR chief.
Four government offices were offered by the incoming president to the Left namely the Department of Agrarian Reform (DAR), Department of Environment and Natural Resources (DENR), Department of Social Welfare and Development (DSWD), and the Department of Labor and Employment (DOLE).
RELATED: Duterte changes mind; no DENR top post to progressive left
Source: Kami.com.ph