Philippines has the best Uber driver in the world
In the world of social media where everybody is always online to post everything about what happened during the day – from the moment they wake up, what's for breakfast, their morning workout session, their grumpy annoying cat, up to the photo of the food they are eating and where – people tend to cling on wifi and data connection to stay in the loop.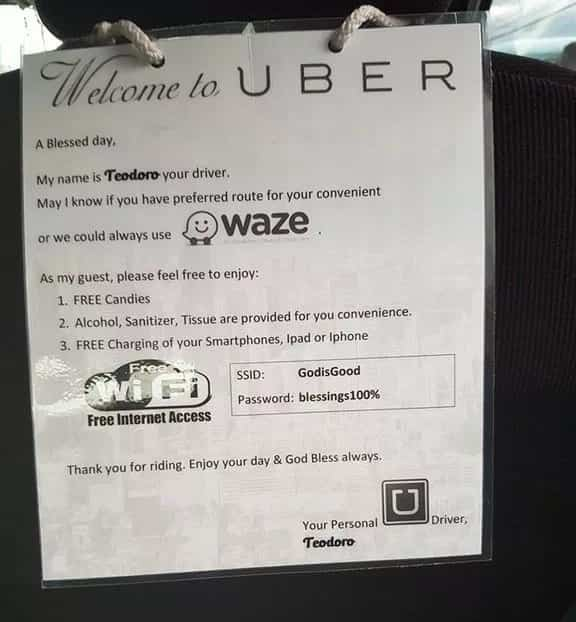 A restaurant with a "FREE WIFI" sign in the sliding door is definitely one of the considerations.
But how about FREE WIFI in the cab?
One constant uber rider has what seems to be the nicest ride of his life.
READ ALSO: WATCH: These children's desire to attend school will melt your heart
He came across the Uber driver named Teodoro and what welcomed him was not what he usually gets from drivers – just a warm smile. He is indeed one lucky passenger for getting Teodoro.
He was surprised to see a placard for the back sitters to see.
Check out the five-star service.
As my guest, please feel free to enjoy:
1. FREE candies
2. Alcohol, sanitizer, tissue are provided for your convenience
3. FREE charging of your smartphone, iPad or iPhone 
And the best part and definitely the game changer is the fact that he has FREE WIFI inside.
And perhaps, when he said 'alcohol' he did not mean whisky, because that will be way too over the top.
One columnist from UK even wrote about it when she probably saw it in the internet going viral.
She said, "Teodoro, please consider leaving the Philippines to pick us up instead."
RELATED: Mom reveals new baby's gender to daughters. One of them has the most hilarious reaction!
Source: KAMI.com.gh