Sunshine Dizon does a Pirena; vows no forgiveness
- Sunshine Dizon reacts to Timothy Tan's statement regarding their marital problems
- The actress vows to seek justice as she made yet another promise to stay with husband Timothy Tan
- The actress recalled how they used to be as husband and wife, and promises Tan that no forgiveness will be coming for him
Actress Sunshine Dizon says there will be no annulment for cheating husband, Timothy Tan in a post on Instagram on Saturday.
Although she did not mention any names in her Instagram post on Sunday night, it was clear that she was referring to her husband.
The GMA actress' post has been modified since but the original post on her social media account says, Now I wake up from this dream and everything turned to nothing. It was all for nothing. It was all a lie."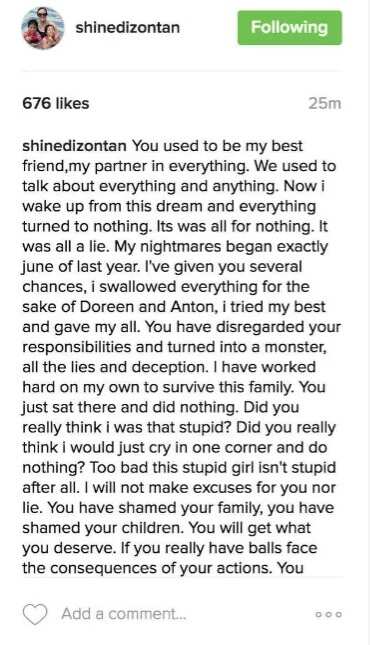 After that, the actress exposed her husband's infidelity.
READ ALSO: The Other Women: Top 10 alleged "kerida" in showbiz
According to Sunshine's posts, it seems that this was not the first time that her husband allegedly cheated on her. She recounted that it all started exactly June of last year. She also said that she has already given Timothy many chances all for the sake of their children - Doreen and Anton.
The actress also expressed her disappointment in Timothy for failing to live up to his responsibilities and obligation as a husband and father, as she single handedly made ends meet. The actress added, 
On Friday, June 17, Sunshine posted on Instagram a series of photos with captions about a woman in the name of Clarissa Sison, the alleged mistress of husband Timothy Tan.
Sunshine on her IG post said that she is not going to make excuses for Tan nor lie for him.
RELATED: Angelica Panganiban opens up about recent heartbreak on GGV
"You have shamed your family, you have shamed your children. 
"You ruined two families. You ruined the lives of our children."
Sunshine's posts also revealed that her husband's mistress apparently lives in the same building as they do.
She cries against her husband's audacity to live with another woman in the same building where his own children live, while taking Dizon's hard-earned money.
She also posted that she has refused to give interviews out of respect for Tan's family.
Timothy Tan has already sent ABS-CBN a statement sharing his side of the story.
RELATED: Timothy Tan confirms split with Sunshine Dizon
Source: KAMI.com.gh