Cardinal Tagle issues 'oratio imperata' for new PH leaders
- Cardinal Tagle orders all Church institutions to pray for the newly-elected leaders
- The prayer will be consistently recited during local masses nine days before incoming leaders take office
- The prayer, invoked exclusively for a calamity, has been linked to their frosty relations with Duterte
Manila Archbishop Luis Antonio Tagle has issued an oratio imperata - literally translated as an obligatory prayer - for the incoming set of government officials who will soon formally take office this June 30.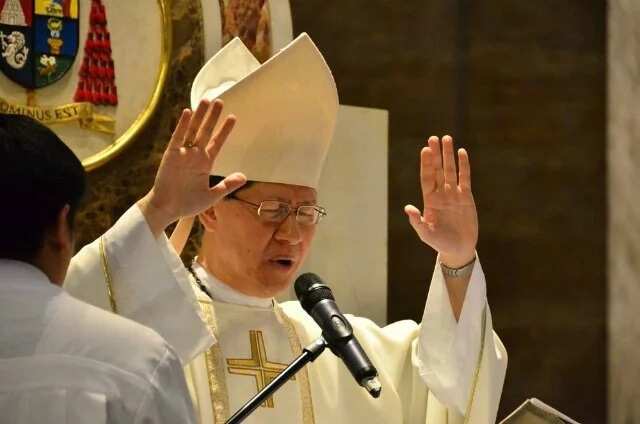 Starting from June 21 until 29, Catholics will recite the prayer during Masses in every parish, shrine, chapel, religious community, and Church -run school in the Archdiocese of Manila, mandated by a circular signed and authenticated by the archdiocese's chancellor Fr. Reginald Malicdem last June 14.
In the past, The Church has issued oratio imperatas for drought relief, protection from calamities, and even protection for the country after widespread concern over the territorial dispute with China.
READ ALSO: Justice Carpio confident on PH case vs China
Averting a calamity?
Oratio imperatas are a collection of prayers that are composed of a liturgical action and a quick, general prayer. It is generally publicly prayed when a grave need for something or a calamity occurs. These prayers, by custom, are invoked by an archdiocese due to overwhelmingly popular requests, and authorized by a high-ranking prelate or a Metropolitan Archbishop.
Some speculate this has been brought about because the Church feels threatened by President-elect Rodrigo Duterte. Since winning the May 9 elections, he has freely insulted and humiliated the Catholic Church, calling the institution "irrelevant" and "one of the most hypocritical institutions in the country".
READ ALSO: [WATCH] Catholic Church vs. 'Iglesia ni Duterte'
In addition to that, Duterte has attacked bishops for allegedly requesting for sports utility vehicles (SUV) during former president Gloria Macapagal-Arroyo's term. Because of this, he likened the bishops to prostitutes.
He has even gone as far as calling Pope Francis the "son of a whore".
Duterte's personal attacks on the Church are not the only issues the institution is concerned about - they also disapprove of Duterte flaunting his alleged connections to vigilante group Davao Death Squad, and his polyamory, amongst other things.
RELATED: Church backs Duterte's release of political prisoners
Source: KAMI.com.gh