Diving in the ocean can be a scary thing because you never know what will sneak up on you
Case in point: this viral video shows two unsuspecting divers getting the shock of their lives as a gigantic whale shark suddenly sneaks up on them, and their bodies almost get smashed in the process
Lesson: Not all the gentle things in life are safe
Although whale sharks are known as gentle and docile giants that feed mostly on plankton, its size, weight and power still pose some danger for scuba divers.
These animals do not have a taste for human flesh, but their enormous size – which can reach up to 46 feet in length and 66,000 lbs in weight – means they can still give divers a good scare once in a while.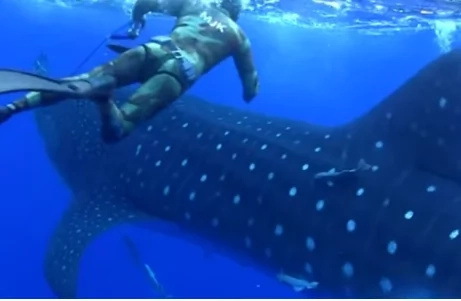 The scary viral video shows two friends diving in the Atlantic and getting frightened as the largest fish on Earth got a little too close for comfort.
READ ALSO: [WATCH] Surfer loses leg after warning reject
The cameraman was busy enjoying and filming the different animals of the deep when his friend warned him that a large animal was coming straight for him. When the cameraman turned around and saw the enormous fish with its jaws opened, he had no choice but to let out a scream and try to move out of the way.
Being in the ocean is scary enough, almost getting crashed onto by a whale shark makes things even scarier and that is why most viewers of the video understood why the man let out a scream.
Fortunately, neither of the two got hurt with the close encounter, even if the cameraman was whacked by the giant's fin as it swam past him. At the end of the video, the two divers let out a laugh to release their tension.
Whale sharks inhabit the tropical and warm-temperate seas and have never been recorded to purposely kill or injure a human being. However, snorkelers and divers are warned by experts to maintain a four-feet distance when swimming with the animals.
READ ALSO: 4 reasons not to swim with whale sharks in PH
RECOMMENDED: #PulotGata: Top 10 honeymoon destinations in the Philippines
Source: Kami.com.ph