- Duterte meets with MILF Moro Islamic Liberation Front (MILF) and the Moro National Liberation Front (MNLF) leaders to discuss the peace process in Mindanao
- President-elect Duterte echoed his promise to pass the Bangsamoro Basic Law (BBL) under his administration
- MILF and MNLF are continuously reconciling their differences to make BBL acceptable and beneficial for Bangsamoro and the whole country
Incoming President Rodrigo Duterte in his meeting with the leaders of the Moro Islamic Liberation Front (MILF) and the Moro National Liberation Front (MNLF) on Friday night to discuss peace in Mindanao is said to have promised to pass the Bangsamoro Basic Law (BBL) under his administration.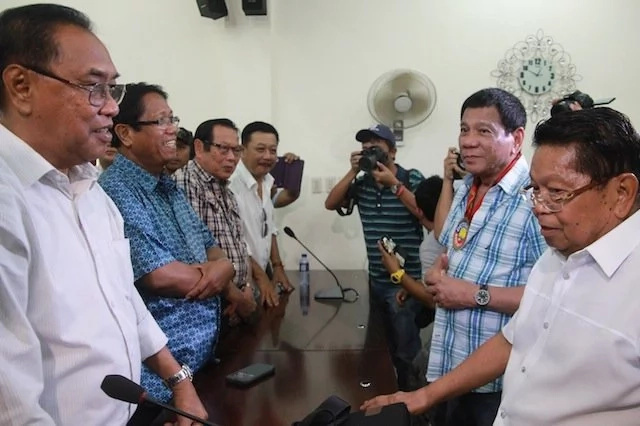 With the intent to talk about resolving the Bangsamoro issue, the two Moro groups organized the meeting.
MNLF Chairman Abul Khayr Alonto, MILF Chairman Murad Ebrahim, and MILF Vice Chairman Ghadzali Jaafar were present during the meeting.
READ ALSO: 5 Terror groups Duterte should stop ASAP
In the gathering described by the MNLF as a "brother to brother meeting," Duterte said that he will stay true to his promise of passing the Bangsamoro Basic Law (BBL) under his administration.
Jaafar said that without the passage of the BBL, the Bangsamoro government will be not implemented. "What is important is that law is effective, may power, may ngipin, (it has power, it has teeth.)" he added.
The MILF Vice chairman even said that he is willing to amend the BBM to accommodate the whole of Bangsomoro which includes the MNLF.
However, the next administration's plan to shift to a federal form of government, according to Davao del Norte First District Representative Pantaleon Alvarez, who is eyed to become the next House Speaker, may result to the delay of the BBL's passage in the 17th Congress. This is because the concept of a Bangsamoro region will also be a part of the said shift.
READ ALSO: What benefits will PH get from Duterte's federal government
This was despite the earlier pronouncement of MILF that it wants to prioritize the passage of the BBL because the implementation of the shift to a federal form of government may take years.
Jaafar said that despite its differences, the MILF and MNLF are reconciling the peace agreements they signed with the Philippine government to ultimately meet halfway. Talks on harmonizing contradicting provisions between the two Moro groups are ongoing according to the MILF Vice chairman.
Meanwhile, Alonto emphasized that there are certain "good provisions" in the BBL that must be retained, "...But the BBL – the good things in the BBL – definitely will be retained and hopefully the country will give us the privilege and the distinct honor to be the first estate within the Philippine federation with the BBL as a model," he said.
RELATED: WATCH: MILF, MNLF support Duterte's federalism
Source: Kami.com.ph