Don't bring Balut into Dubai - Philippine Consulate in Dubai
-          Bringing Balut to UAE is illegal according to the Philippine Consulate in Dubai
-          Baluts will be confiscated at the point of entry, and immigration clearance delays will be experienced by the bearer
-          The Philippine Consulate told the public in an advisory to stop bringing baluts to UAE to avoid inconvenience
The Philippine Consulate in Dubai warned Filipinos entering the United Arab Emirates (UAE) about bringing the Pinoy favorite, Balut, or cooked fertilized duck eggs as Pasalubong (gift) from a vacation trip in the Philippines.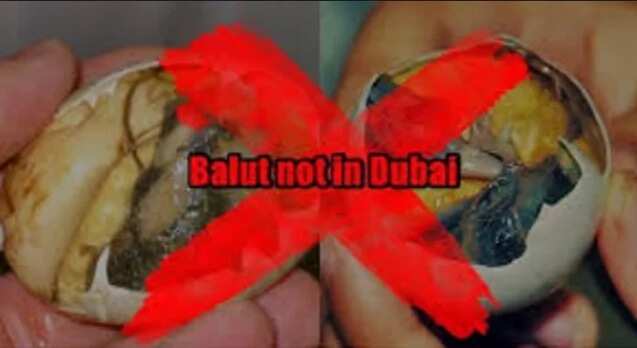 They alerted the public that the entry of these Baluts is illegal, and doing so would mean that bearers would be subjected to custom violation charges.
READ ALSO: 'Bolitas': The seriously strange sexual oddity of Filipino seamen 
The Consulate General of the Republic of the Philippines in Dubai and Northern Emirates released an announcement last Tuesday after receiving several reports of the confiscation of Baluts during entry to Dubai. In the public advisory, it was stated that any commercial or non-commercial entry of Balut in Dubai shall merit a confiscation by the Customs authority, emphasizing especially on Baluts without the necessary customs and health certificates.
READ ALSO: Pinay tried to use bogus passport to bring her child to the Philippines
According to the consulate, aside from the confiscation of the Baluts, bearers will also experience further delays in the immigration clearance, and so to avoid any inconvenience, the consulate also added that Filipinos should not sneak these duck eggs to their luggage.
The Balut, typically a 16 to 21-day-old boiled fertilized duck egg is a very popular Filipino delicacy, and it is often times an object of culinary fascination in the Philippines. These fertilized duck eggs are closely linked to the food customs of many Asian countries, more common in Southeast Asia. Many Filipino families tend their own duck farms in their backyards. Baluts are sold in a variety of ways – from street vendors to high end restaurant.
RELATED: Filipina gives birth during PAL flight in Dubai
Source: KAMI.com.gh