- American Couple Stephen and Candace were able to have a photo with incoming President Rodrigo Duterte, late night of June 17
- The couple wanted the photo as a souvenir that they can bring to the United States and share to their families and friends
- Rodrigo Duterte was in the same hotel as the couple for a meeting with the leaders of the Moro Islamic Liberation Front (MILF) and Moro National Liberation Front (MNLF)
American Couple Stephen and Candace Piercy were granted their wish of a photo opportunity with the President-elect Rodrigo Duterte as a souvenir from the Philippines at Hotel Elena, Davao City night of June 17.
Despite strict security measures and an almost impossible chance of a photo with the president-elect, the couple patiently waited outside the hotel, with Stephen holding a camera all throughout. Other supporters of the incoming president were also there.
The couple was staying in the same hotel where they saw Duterte who was there to meet with the Moro Islamic Liberation Front (MILF) and Moro National Liberation Front (MNLF) leaders. When asked why they wanted a photo with Duterte, they told reporters that they wanted a souvenir which they could show to their friends before they leave for the United States.
READ ALSO: WATCH: MILF, MNLF support Duterte's federalism
Christopher "Bong" Go from Duterte's camp, while ushering in other guests of the incoming president was then alerted by the reporters about the couple's request. Go said however, that they had to wait because other group of supporters had to be accommodated first. A group of four supporters were able to have their pictures taken with Duterte, they even had their red T-shirts signed by the president-elect himself.
After the group went out of the hotel, past 1am, Go came out looking for Stephen and Candace.
Go escorted the couple in the same room where Duterte was waiting, and after hours of staking out, they were able to finally realize their wish:
The couple told reporters that the experience was wonderful, and that waiting for the opportunity was worth it.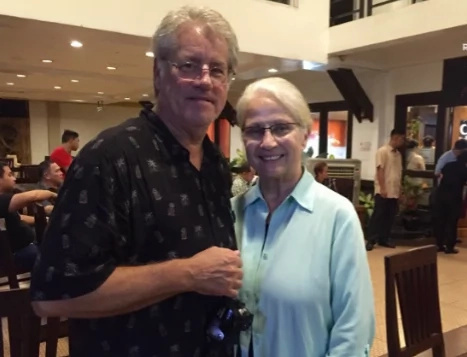 "It was fun. It totally was an honor to have a picture taken with him. We were about to give up. It was way past our bedtime," said Candace.
Rodrigo Duterte is set to be officially proclaimed as the Philippine president on June 30.
RELATED: Baste and Sara, on growing up with Digong
Source: Kami.com.ph