Woman lost her child but is still pregnant 2 weeks later
- Sadie Brittle, 32, lost her unborn baby due to an ectopic pregnancy
- After her operation, Brittle found herself pregnant again while on vacation
- Brittle's husband declares the discovery as a 'miracle'
A couple went through a roller coaster of emotion after losing a child, then finding out that they're still expecting 2 weeks after.
Sadie Brittle, 32, lost her unborn baby due to ectopic pregnancy. This is a case where the fetus develops inside the fallopian tube instead of in the uterus. She recalled about feeling hot and how her vision got blurry after she ran some tests in the hospital. Despite forcing herself to get to work, she claimed that she could not continue for the day as she felt unwell. An ambulance was called immediately when she saw herself white and sweating in the mirror.
Doctors feared that the drop in her blood pressure was caused by internal bleeding, and this was proven correct after a few scans. She underwent surgery at once to remove one of her fallopian tubes and had blood transfusions as well.
READ ALSO: Doctors said that one of the newly born twins was dead. But then parents saw this…
"I was in hospital for five days and was on antibiotics and pain relief," Sadie said. However, doctors assured her that she would still bear children because of the other remaining fallopian tube.
It was during her vacation in Spain after her operation when she noticed that she was getting larger.
READ ALSO: Mom reveals new baby's gender to daughters. One of them has the most hilarious reaction!
Concerned, she took a pregnancy test which resulted positive, and was adamant about it. They requested a midwife during their trip and were informed that there is a possibility that multiple birth cells must still be present in her body, therefore the positive result.
Immediately paying a visit to her doctor, they opted to have an ultrasound and there was a heartbeat detected. "I went for a scan which showed that I was 19 weeks pregnant," Sadie noted.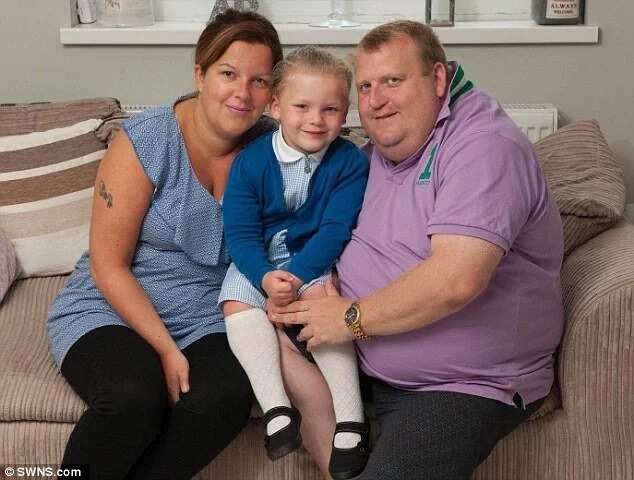 Gary Brittle, Sadie's husband, considered this a 'miracle.' The couple is looking forward to the arrival of their new baby on November, whom they have already named Teddy. He shared that their 4-year old daughter, Summer, pointed at some milk in a shop during their holiday in Spain, and said, "we need to get some milk for the baby."
Teddy is revealed to be progressing normally according to their 20-week scan last Thursday, June 16.
READ ALSO: WATCH: Couple holds baby gender reveal party, what happens next freaked everyone out
Source: KAMI.com.gh