Powerful photos of dads caring for their children in times of war
With the ongoing tragic war in Syria and Iraq, citizens who wish to survive and have a better life away from their current country will certainly do everything to find refuge in other countries. When they are lucky enough to have enough resources, families sell their belongings including their houses and small areas of land to buy tickets for a ship ride to wherever their boat will lead them. They are approaching uncertainty, but for them, the grass is certainly greener in other countries, so long as it's not Syria nor Iraq.
Many have made it to the other side of the world. Some are already starting a comparatively better life with their families as promised to them. But for some who are still unlucky, who are still trying their luck for a better life, they are still stuck in the country they loathed, having no choice but to stay in refugee camps, waiting for the opportunity to escape with their families.
This Father's Day, we are bringing you the most heartwarming, and powerful photos of fathers with their child in Syria Refugee Trails. For among all the Fathers who are celebrating and appreciated today, it is them who deserve the recognition from all over the world. They are the ones who risk their own lives in order for their families to experience a safer life.
1. A Father's firm embrace.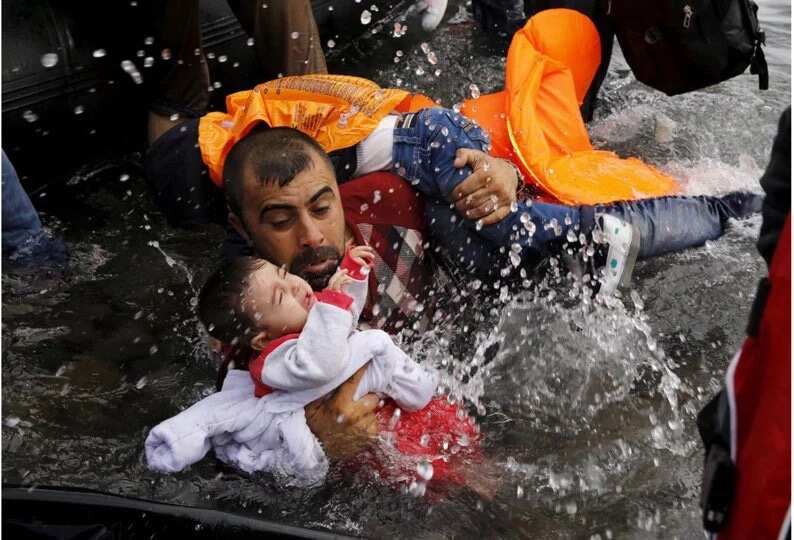 A refugee from Syria struggling to hold on to his child as he scuffled the raging waters as he tries to alight a sea craft as it landed on Greece. Only one thing is on his mind – a safer life for his child in Greece. He just needs to survive this!
2. Fatherly patience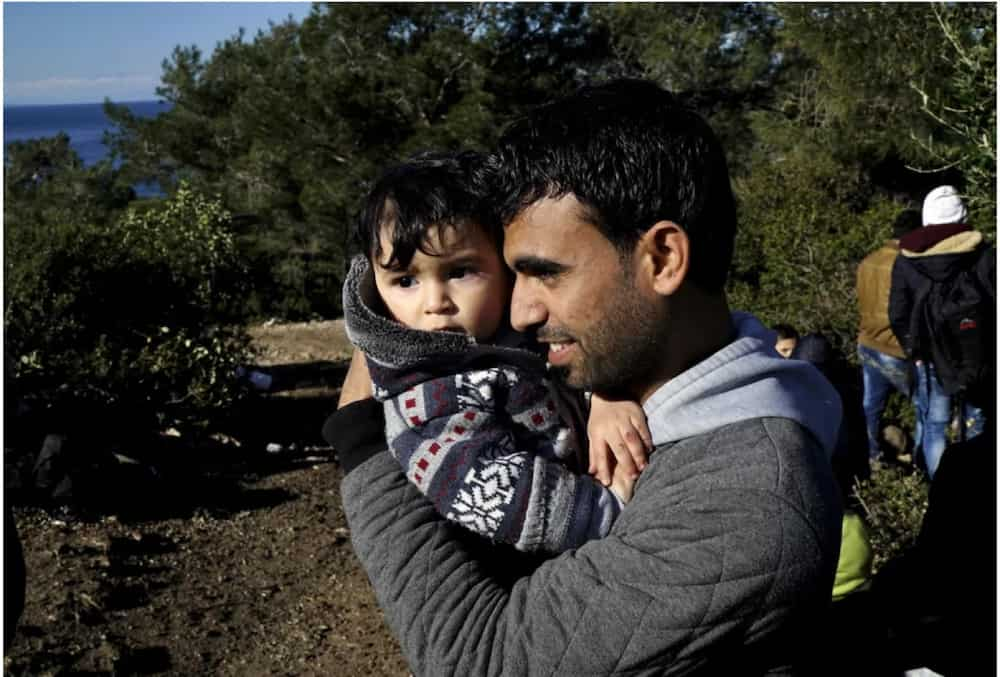 This isn't just a father-daughter photo having a fun camping day in the lake on a sunny Sunday. He is one of the unlucky ones who were prevented to ride the ship and sail to the Greek islands. Here, they are waiting on the roadside hopeful for another opportunity. Fathers never give up, indeed!
3. Look of relief.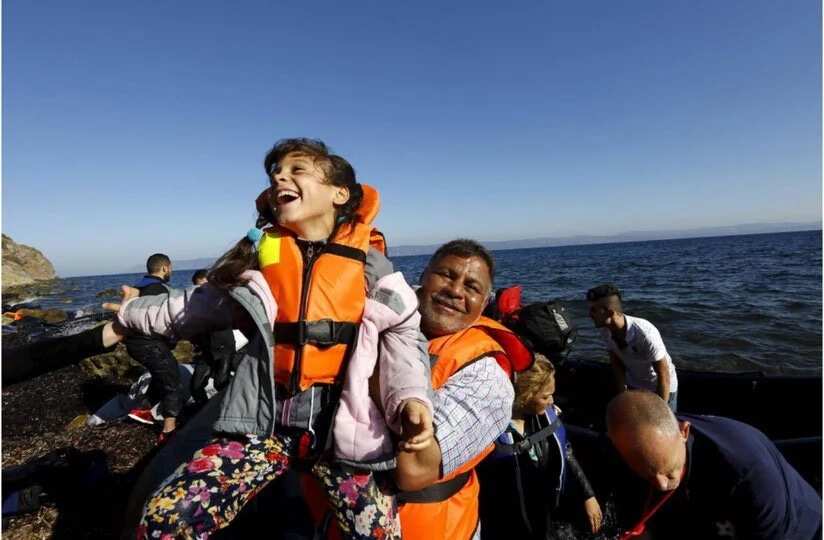 A very happy Syrian girl lifted by her father as they finally reached the Greek coast!
4. Joy of a father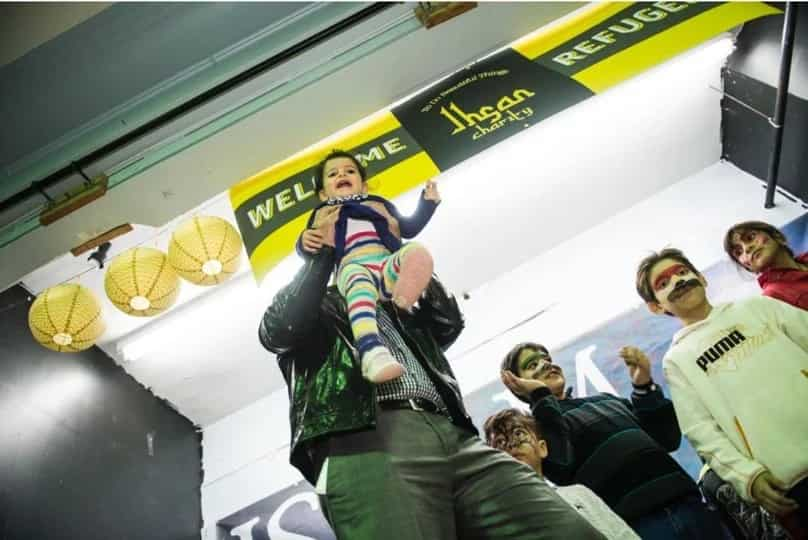 A very exultant scene of a Syrian father raising his child captured in America as Americans welcomed the refugees successfully taking refuge in the Americas. A party was thrown for them at North Hudson Islamic Educational Center in Union City, New Jersey.
5. Love of a first time dad to his new born
This is a heartwarming photo indeed. This 10-day old baby girl is taken care of by his father. They successfully reached the land of the Greeks where his baby was born. It's indeed a good way to start a better and safer life for his family.
6. Lord, have mercy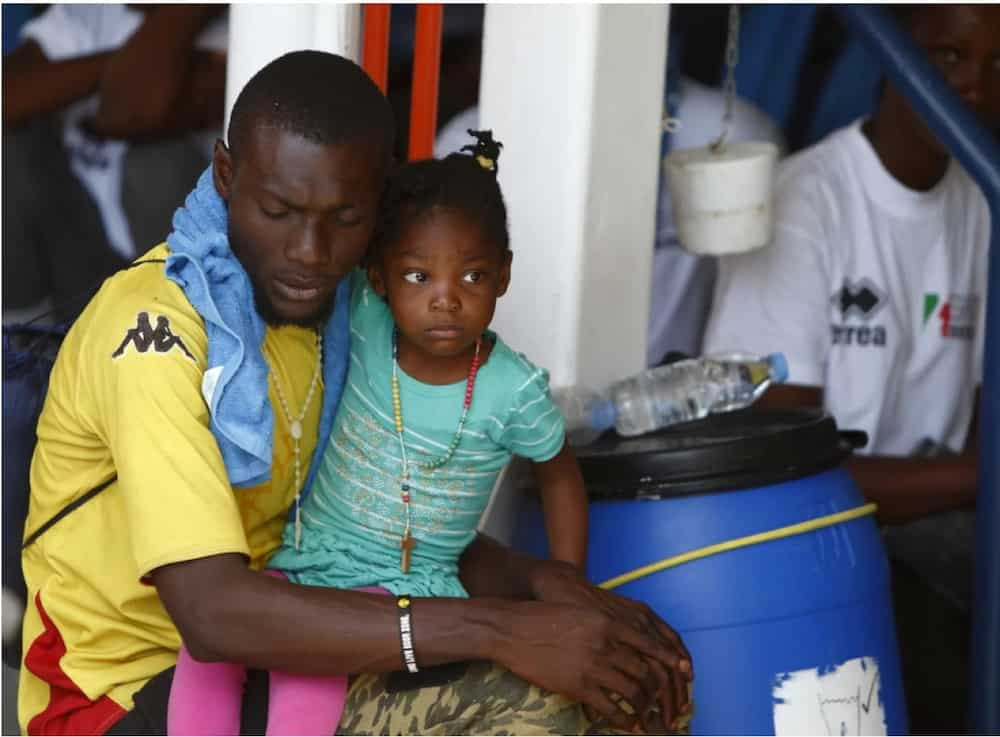 This is another normal-looking photo which seems to be just a snap of normal sub-Saharan everyday life. But this man holding his child is waiting for his turn to board the ship to the Italian lands. Refugees attempt to find refuge in Italy via Libya. One lucky man, hopefully.
7. Saved by the father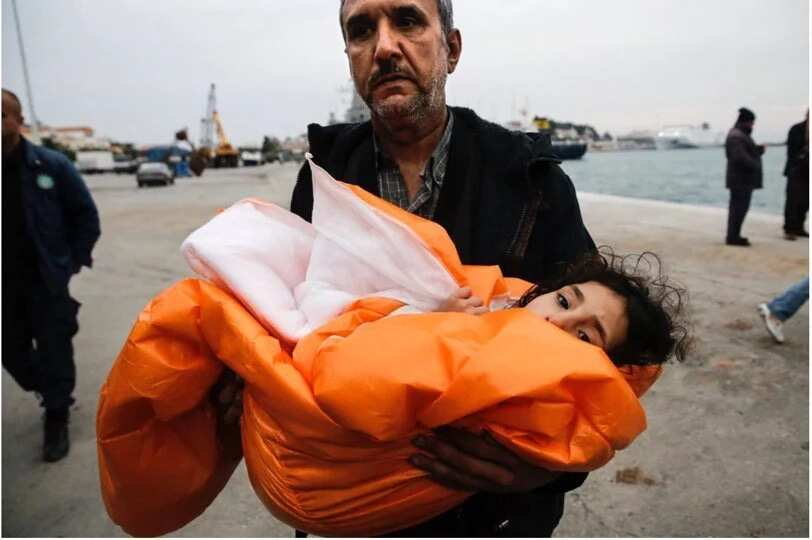 One of the lucky men who successfully reached Greece as they deliberately left Syria. This is a photo of a Syrian father trying to bring comfort to her daughter as he wraps her with a thick orange blanket he only found in the ship. Dads will certainly find a way when there is nothing left of them.
Source: KAMI.com.gh