They called each other liars. Who's telling the truth, Kim K or T Swift?
-Kim Kardashian and Taylor Swift both called each other a liar
-The KUWTK star claimed that Taylor knew of Kanye's lyrics and approved of it 
- Swift denied all of Kim's claims and asks to just leave her alone
Kim Kardashian dropped a bomb on Taylor Swift on her recent interview with GQ.
It was only a few months ago when Kanye West released a controversial line on one of his songs in his latest album, 'I feel like me and Taylor might still have sex / Why? I made that bitch famous.' The artist claimed that he informed Swift about it and got her approval.
The Kardashian heiress announced that she has proof of the conversation between West and Swift. Her husband commissions videographers to record everything when he is in the process of recording an album, both for posterity and hopefully, a documentary in the future. They managed to film the phone call Kanye made to Taylor. According to Kim, the Style singer, "totally gave the okay." She claimed that numerous respected people in the music industry was present during the phone call, including Rick Rubin.
READ ALSO: Taylor Swift moves on with Tom Hiddleston, 2 weeks after her split with Calvin Harris
"It was funny because [on the phone with Kanye, Taylor] said, 'When I get on the Grammy's red carpet, all the media is going to think that I'm so against this, and I'll just laugh and say, 'The joke's on you guys, I was in on it the whole time,'" Kim shared. However, that wasn't the case when Swift delivered her Grammy acceptance speech, "I want to say to all the young women out there, there are going to be people along the way who will try to undercut your success or take credit for your accomplishments, or your fame…" she said, giving Kanye shade.
Kim expressed her annoyance, claiming that her husband receives the backlash when he was doing proper protocol.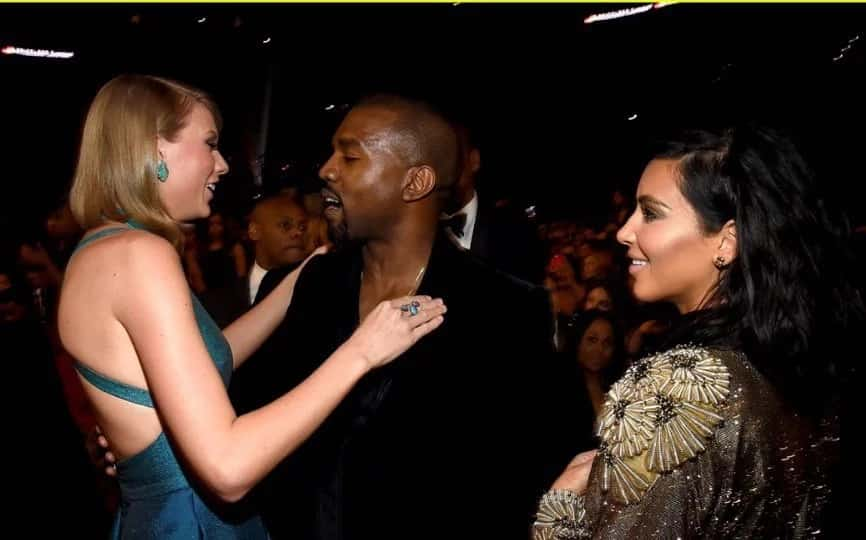 Swift's publicist denied Kanye's claim of sorting everything out with the artist. They claimed that opposite to what Kanye said, he did not ask for approval but for Taylor to release his single on her Twitter account in which she declined. Swift's camp insisted that Kanye didn't notify them about how he would refer the artist as 'bitch' in the song, and that Taylor heard it the first time everyone else did and felt humiliated.
As to what Taylor had to say about the video, Kim shared that when the other side had learned of it, they received an attorney letter from Swift saying, "Don't ever let that footage come out of me saying that. Destroy it."
The night before Kim's story could break the internet, Taylor was spotted having a lovely time with actor Tom Hiddleston at Rhode Island. It seems that we can't keep up with both Kardashian and Swift this time!
RELATED:Taylor Swift new album release soon as she and Calvin Harris call it quits
Source: KAMI.com.gh