- Commission on Higher Education (CHEd) believes that President-elect Rodrigo Duterte will honor their chairman's fixed term
- Ateneo de Davao university president, in his blog, talked about the possible future of the Commission on Higher Education (CHEd) 
- The reported replacement, John David Lapuz, may be unqualified according to a CHEd executive.
Executives of the Commission on Higher Education (CHEd) have expressed objections to the reported replacement of current CHEd Chairman Patricia Licuanan.
CHEd Deputy Executive Director Napoleon Imperial said, "the Higher Education Act of 1994 mandates the CHEd chair and four commissioners have a fixed term of four years, without prejudice to one reappointment."
In a statement on Friday, June 17, Imperial said that Duterte had met Licuanan in Davao and is "committed" to respect her term. This, he said, in reaction to recent reports that John David Lapuz, Duterte's former professor, has been named as the incoming CHEd chairman.
Imperial said, "The new president is known to the people of Davao and the public as a leader who keeps his word."
READ ALSO: 4 reasons Duterte may be the best PH president
According to Imperial, "He [Duterte] has already committed himself to respect the law that sets the fixed term of Licuanan which will end in July 2018."
Reports regarding the Lapuz's 'appointment' has started circulating after it appeared in a blog post of Fr. Joel Tabora, SJ, university president of Ateneo de Davao University. In his blog post, Tabora had discussed the possibility of Duterte seeking Licuanan's resignation after the Commission on Audit's (COA) 2014 report, released in January.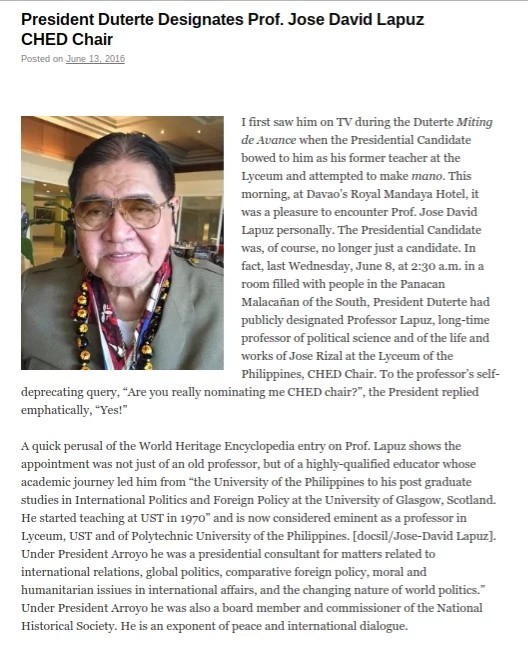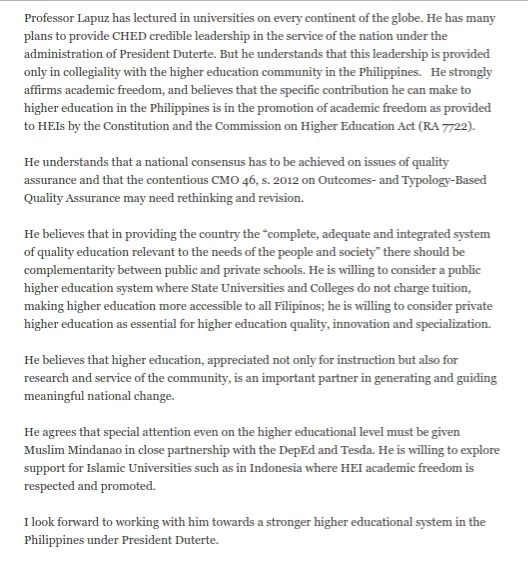 Tabora also cited the unspent P1.2-billion fund for students, which according to him, manifests "internal control weaknesses" in its operational processes under the student financial assistance programs.
In response to the blog post, Imperial said that CHEd had already clarified that "the remaining P1.2-billion 2014 budget had been fully obligated with an assurance that the beneficiaries would be paid."
According to Imperial, Lapuz, may not be qualified for the CHEd post since the Higher Education Act also states that "earned doctorates" are requisites for an appointment to the commission.
RELATED: WATCH: Duterte holds first cabinet meeting in Manila
Source: Kami.com.ph