- PH comfort women demand full public apology and compensation from Japan
- Japan has not apologized to other countries where other comfort women operated, such as PH, New Guinea and Burma
- PH and Japan's close economic relationship hampers their cause
The Red House, though faded and barely standing on its own, was surely as red as the blood of all the comfort women who lost their lives back in its heyday in World War II.
Its caretaker said that the house is filled with something evil. The souls broken by the War roamed the halls in perpetual unrest.
"There are evil spirits. My mother and brother used to see the ghost of an old woman."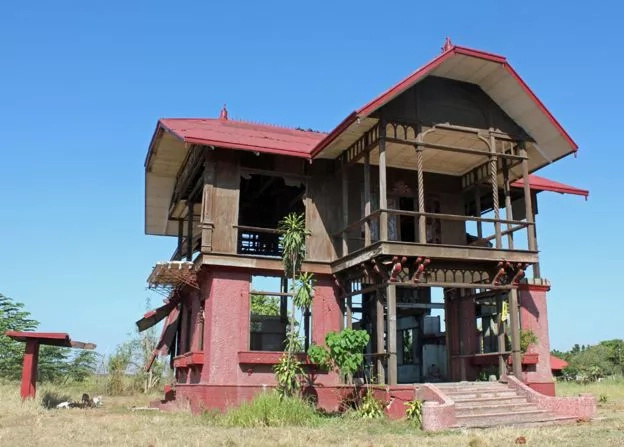 Thousands of women and girls - maybe even more, no one is certain - across Asia were raped and coerced into sexual slavery by Japanese soldiers during WWII. Some, like the South Koreans, have been given a direct apology and compensation from the Japanese government, but the Philippines' suffering has yet to be acknowledged.
After years of hurting in silence, the last living victims have finally decided to end their silence.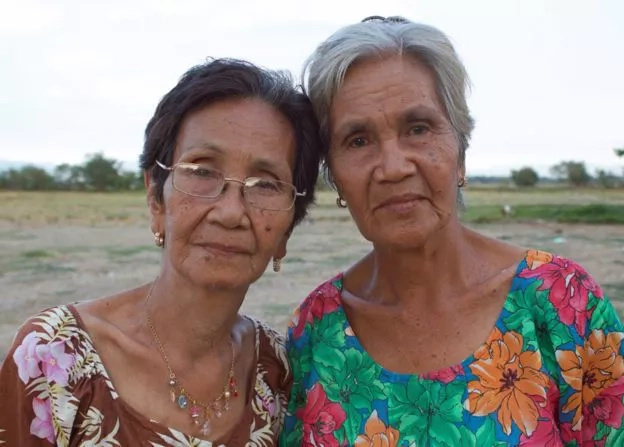 Lita and her sister Mileng live in Mapanique, a village close to the Red House. It is around 50 miles north of capital Manila. They are now in their 80s, but they can still recall their simple and happy childhood, filled with classic games such as hopscotch, tag, and climbing trees to pick fruit.
Everything changed when, at 13 and 15 years old, the Japanese soldiers raided their village. This was in 1944.
The sisters recalled how everyone was forced to watch as suspected resistance fighters were executed, in various brutal ways to deter anyone who dared to oppose them. One old man was reportedly castrated and forced to eat his own penis.
Their village was then thoroughly looted and razed to the ground. All the girls and women - more than 100 in total - were forced to carry the loot to the Red House, which the Japanese troops were using as a garrison.
Lita and Mileng were deathly afraid. They thought it was the end of their world,  and that the soldiers were going to kill them.
The soldiers, however, had a different plan for the women. They were in high spirits; they removed their uniforms, ate a meal,  and had a smoke.
Then, as the sky burned out, they began raping their captives.
"It was so painful," Mileng whispers.
As they wandered about the Red House, Lita pointed to the where the stairway used to be. It was where she was raped.
"I was struggling because I didn't want to be stripped ... I kept my legs together, tightly crossed ... they punched my thighs so that they could do what they wanted."
The next morning, they were allowed to leave, but since all they had left of their homes were ashes, they were brought along the river to a nearby town.
In all the panic and confusion, the sisters took nearly three days to find each other again.
They were now part of one of the world's largest operations of sexual violence. An estimated 200,000 women were kept in captivity, and  many more were raped.
The world knows that most comfort women were in Korea and China, but not about how the operation sprawled across the Japanese empire, extending as far as New Guinea, Burma, and the Philippines.
Historian Ricardo Jose from the University of the Philippines believed that this was not a spur-of-the-moment activity. It was planned.
In the 1930s, the Japanese Imperial Army created a system to control sexual activity through the use of full-time slaves, who they dubbed as "comfort women". This was in response to the "raping sprees" the Japanese troops had throughout China and the possible threat of widespread STD infections.
READ ALSO: 45 WWII Veterans Will Be Honored On Veterans Week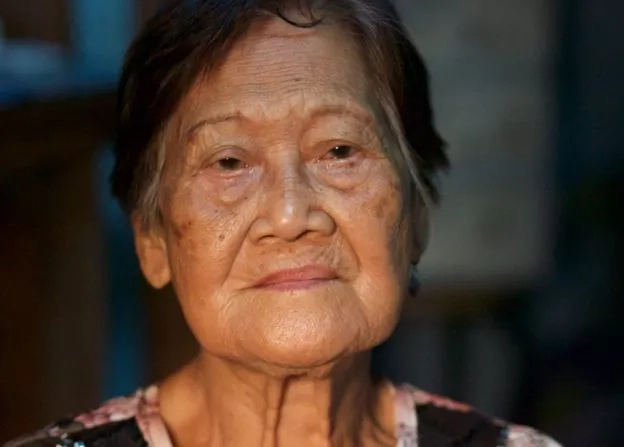 Estellita is a frail and soft-spoken 86-year-old great-grandmother. She grew up on a lucrative sugar plantation in Central Philippines. When she was young, she dreamed of becoming a teacher.
One day, while selling food at the local market, she was dragged away by a Japanese soldier and bundled into a truck.
The truck took her to a garrison, where she was repeatedly raped.
"I don't remember how many men came in ... he [the soldier] held my head and banged it really hard into the table and I lost consciousness."
Estellita was only 14. She spent a long three weeks in the hands of the Japanese.
She narrated her story in a factual manner, leaving out any intense emotion. Seventy years later, she is still afraid of showing her pain. She has worked hard to forget the screaming, the crying,  and the visage of the armed guard who stood watch outside her door.
Jose said it was absolute hell for the comfort women. Their days consisted of staying in bed, waiting for the next customer, and submitting to their whims. This went on, with little or even no breaks, for hours, days, and months. They were powerless.
Whatever historical records the world has scraped together after the war give a chilling glimpse into these women's lives.
Once every two weeks, Imperial Army doctors would visit a garrison in Iloilo and record the names, ages and sexual state of their captives. Most of these women were teenagers. Vaginal inflammation and erosion were just two of many other commonly recorded health problems.
At their absolute worst, Jose revealed that the acts of violence did not just involve rape, but the insertion of almost anything into a woman's vagina - bottles, sticks, or blunt objects.
"Of course it created scars for life. Sometimes the women were left for dead."
Estellita's captivity ended as abruptly as it began. One day, American soldiers shook her out of her sleep. The Japanese had fled. She left the garrison and went back home to her parents.
Briefly, she tried going back to school and attempted to keep busy. Eventually, the burden of shame and the fear that her friends and neighbors would eventually discover what she had been through took over her life, and she left everything, including her dreams of becoming a teacher, for a life of poverty and anonymity in Manila.
She kept her silence for fifty years, afraid of sharing her story with even her husband or her children.
But when she started meeting up with other survivors and campaigning for the comfort women, her daughter Lisa noticed her absence and began asking questions.
"I had to explain that I didn't want it to happen to me," Estellita says, aware that other women had been abandoned by their families when they found out.
Fortunately, this was not the case for Estellita. Her daughter was intensely moved by her story, and has now joined her in the fight for justice.
READ ALSO: South Korea wishes to establish closer ties with the Philippines
Twenty-three years ago, the Japanese government gave their 'sincere apologies and remorse to all those, irrespective of place of origin, who suffered immeasurable pain and incurable physical and psychological wounds as comfort women.'
Back then, they helped create a fund to provide aid and support to the victims but did not offer comprehensive state-funded compensation.
However, many of the women find their apologies too vague, and the financial offer insufficient. They questioned Japan's sincerity, especially with recent statements from affluent Japanese politicians that challenge the accuracy of their accounts. Just last February, Deputy Foreign Minister Shinsuke Sugiyama told a UN Committee that Tokyo does not have any documentary evidence to confirm the forced recruitment of women into sexual slavery during the war.
The women from the Philippines demanded a full public apology - one explicitly acknowledging the pain they went through, as well as accepting legal responsibility and providing compensation.
While Tokyo offered an official apology and vowed compensation for the South Korean survivors, they did not appear to hear the pleas of the Filipina survivors.
The Filipinas suspected that the close economic relations between their government and Japan hampered Manila from applying more pressure. Japan is currently the largest donor and trading partner with the Philippines, as well as an extremely strategic ally.
In its defense, the Philippine government announced that it has 'always remained sensitive to promoting the welfare of former Filipino comfort women,' and that it will continue to 'adopt a firm and unwavering position on the matter.'
But these things are not enough for Estellita and her group. Together, they have taken their campaign to the streets, joining a major political rally in downtown Manila.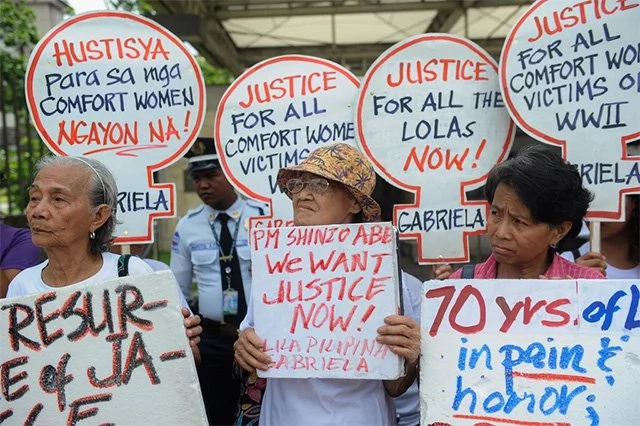 The rally was loud and chaotic while women waved their banners high above their heads. Estellita looked frail and tired, but her face lit up and she seemed more infused with energy.
She said that they refuse to stop until they get the justice they are calling for - and when they do, it will feel like a great burden has been lifted off their shoulders.
Around 1,000 Filipinas were recorded to be forced into sexual slavery. Only 70 are believed to be alive - and their age pervades the movement with a sense of urgency.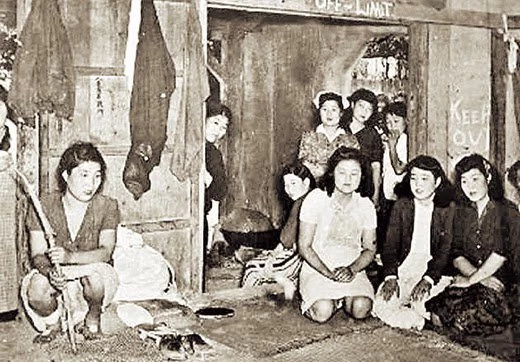 The comfort women have lived their whole lives shrouded in the shadow of whatever Red Houses they were forced into.
The real Red House, just like the women, is old and frail. It looks as if it could be carried away in a storm. The walls, floors and pillars have been taken down and the land is up for sale.
"Whenever we pass by and see the house we are reminded of what the Japanese did to us," Lita said. "It was so painful but if the house is destroyed, we will be sad because it's part of the story of our lives. We want this house to be a reminder of our story."
READ ALSO: Read how ladies avoid sleeping with men they visit
Source: Kami.com.ph