Peace talks start in July between Duterte camp and NDFP
The recently-concluded exploratory talks in Oslo, Norway led President-elect Rodrigo Duterte's camp and the National Democratic Front of the Philippines (NDFP) to continue their peace negotiations in the third week of July.
It has been known that one of Duterte's campaign platforms is to unify the country through peace negotiations with various dissenting groups, such as the Left and the secessionist forces in Mindanao. He also vowed that he would free all political prisoners as an act of benevolence.
However, he prioritized negotiating with the Left when he appointed Jesus Dureza to become his peace adviser.  Duterte admitted that he was partial to the Left's cause, which led to the unprecedented decision of nominating NDFP members in his Cabinet.
On Wednesday, June 14, Duterte's camp and the communist-led NDFP signed a joint statement in the two-day affair. Both panels agreed to expedite negotiations and focus on critical issues such as granting amnesty to rebels and releasing all political prisoners who were "subject to concurrence by Congress."
They planned to discuss "the timeline for the completion of the remaining substantive agenda of the talks, socioeconomic reforms, political and constitutional reforms, and end of hostilities and disposition of forces" in the upcoming formal negotiations as well.
The joint statement also confirmed a discussion regarding the "mode of interim ceasefire", and the reformation of the Joint Agreement on Safety and Immunity Guarantees (Jasig) list. The Jasig list will offer protection to all parties involved in the talks, such as negotiators, consultants, staff and other individuals. The Duterte panel advised that immediate release should be given to NDFP consultants and other Jasig-protected persons "in accordance with the Jasig to enable them to participate in the negotiations."
RELATED: Duterte, to renegotiate with NDF rebels
Duterte's camp, which consisted of Dureza, incoming Labor Secretary Silvestre Bello III, and incoming government panel member Hernan Braganza, also promised that they would take up with the presumptive president that the instantaneous release of detainees should be "based on humanitarian grounds."
NDFP legal consultant Edgar Olalia commented that a legislated amnesty grants freedom to a group of people and removes their offenses and criminal liability.
"[The granting of] amnesty need not require admission of guilt unlike [a presidential] pardon. Amnesty also applies to both to [those] convicted and not," he said.
Karapatan, a militant human rights group, expressed their approval of the amnesty and hoped that lawmakers would prioritize the law. According to Cristina Palabay, Karapatan's secretary general, the proposed law will "prevent another injustice to the political detainees."
"Another day in prison is another day of injustice for these [people] who were illegally arrested, tortured and jailed," she added.
Palabay noted that the law should be 'general, omnibus and unconditional'.
"General means all political prisoners. Unconditional means no precondition is set before they can be released. Omnibus means that all charges or offenses against them are covered by amnesty," she said.
She also urged Duterte to prioritize the release of 74 detainees in the country, who had been in prison for over a decade but had not yet been convicted.
As of May 31, 2016, an estimate of 297 political prisoners (out of 509) were 'illegally arrested' during the outgoing administration. Out of the total estimate, eighteen are said to be NDFP peace consultants, while 88 are suffering from various illnesses and 48 are elderly.
RELATED: Church backs Duterte's release of political prisoners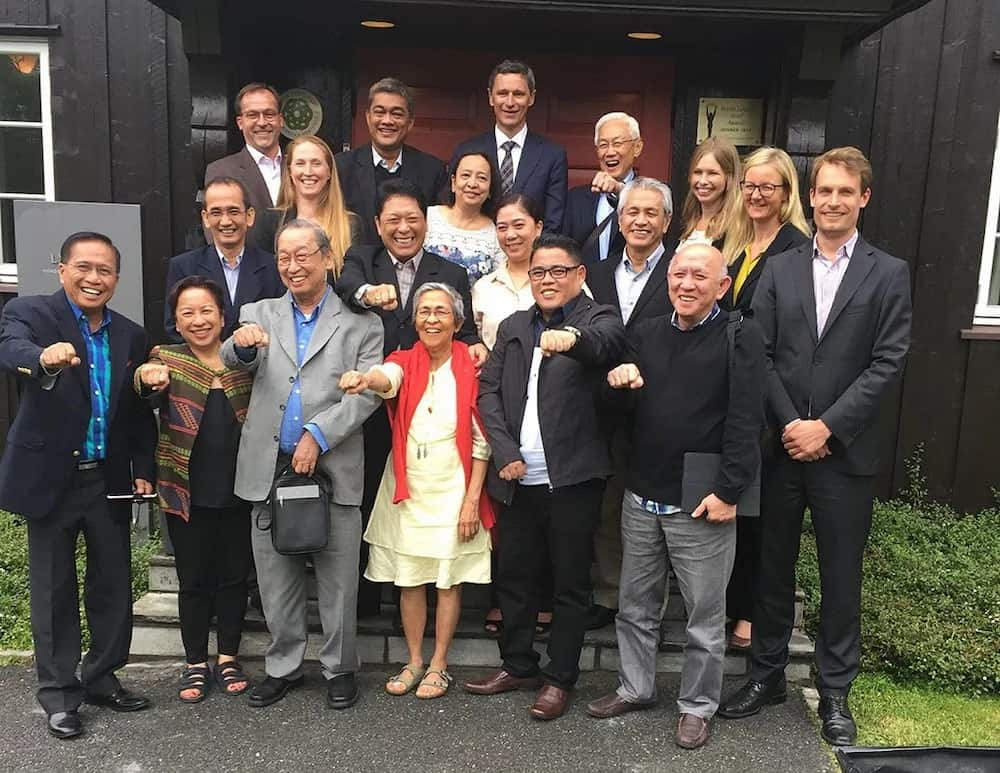 Along with the incoming administration's panel, the NDFP panel signed the agreement with Ambassador Elisabeth Slattum as their witness. The communist partisans consisted of Luis Jalandoni, Fidel Agcaoili and Communist Party of the Philippines (CPP) and NDFP chief consultant Jose Maria 'Joma' Sison. Slattum is Norway's special emissary to the Philippine peace process.
Dureza stated that the political will of the incoming administration should be credited for finding a passive resolution to the conflict.
"A lot of it really came from the bold and out-of-the-box positions taken by President Rody Duterte. I think we should give it to him in terms of these first steps. There are still many steps but this is a very significant step," he said.
Almost all participants expressed their contentment on how the exploratory meetings went, as it became an exchange where everyone was hopeful to go forward.
Sison declared the exploratory talk as a success, and shared that his cause was determined to move ahead.
Slattum shared the same sentiment, wherein she described the meetings as 'positive, optimistic and very productive'. She was 'very pleased' that the peace talks resumed.
Olalia remarked that the talks were a "big baby step and a good start", where the exchange of arguments between both panels were "mainly candid and open, with [a] desire to move forward."
RELATED: Communists promise hand-holding to Duterte
Source: KAMI.com.gh