Abu hostages: They treat us like animals
– The two remaining Abu Sayyaf captives suffer from physical abuse and mental torture
– If ransom is not provided, the bandits warned to behead them.
– Philippine and Norwegian governments work closely to save the two hostages.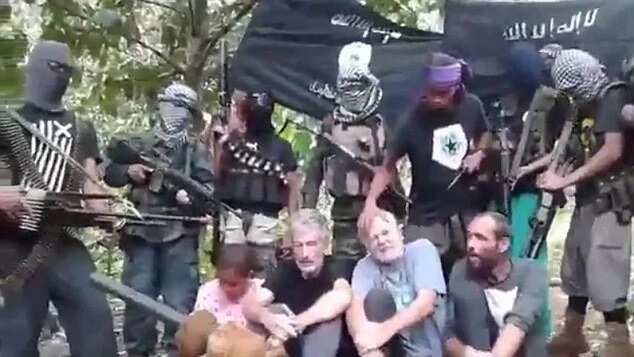 Norwegian Kjartan Sekkingstad and Filipino Marites Flor – the two remaining hostages abducted by the Abu Sayyaf Group from Samal Island, Davao del Norte – have described their difficult situation in the hands of the bandits.
"They slap me for no reason at all. They treat us like animals. They don't have compassion," a sobbing Flor told reporters in a radio interview.
The hostages also expressed the mental torture they are experiencing, not knowing if they will survive their predicament or not; neither the day and time they will be executed by the terrorists.
"We are sitting and waiting. We don't know if we will be alive later on today or not," Sekkingstad said.
READ ALSO: Abus warn PH government of Norwegian beheading
Aside from physical abuse, the hostages have revealed earlier that they are also being starved and sleep deprived by their abductors.
The Abu Sayyaf bandits have issued a warning that they will behead the two remaining hostages if the P600-million ransom they are demanding will not be delivered.
Sekkingstad, Flor and Canadians John Risdel and Robert Hall were seized by the bandits on Sep. 21, 2015 from Davao del Norte and were then taken to the province of Sulu – the stronghold of the Abu Sayyaf terrorists.
READ ALSO: Abu Sayyaf: Beheading, to embarrass Duterte
Risdel was beheaded in April and Hall suffered the same fate on Monday. While the main reason for Hall's beheading is the refusal of the government to give them ransom money, the bandits have said that they also executed their hostage in order to embarrass the incoming President Rodrigo Duterte.
"Para kay Duterte, ang bagong Presidente, ito ay alamin mo kung ano gagawin namin sa Canadian," the Abu Sayyaf spokesperson said on Wednesday.
(This is for Duterte, the new President, this is for you to know what we will do to the Canadian.)
The Philippine and Norwegian governments are working hand in hand to capture the killers and rescue the captives. Authorities have repeatedly said that giving the bandits the ransom money is not an option in their rescue operations.
RELATED: Senators back martial law in Sulu
Source: KAMI.com.gh