We've found actress Liza Soberano's long lost twin!
A few weeks ago, we've shown you local celebrities and their Hollywood twins. The list includes Agot Isidro who looks like Julia Roberts, Pokwang and Lucy Liu, Georgina Wilson and Leighton Meester, and many more. Netizens have also discussed other celebrities who were not included in the list like Liza Soberano. They have debated that the Kapamilya teen star looks like Argentine-British star Olivia Hussey or Japanese actress Meisa Kuroki.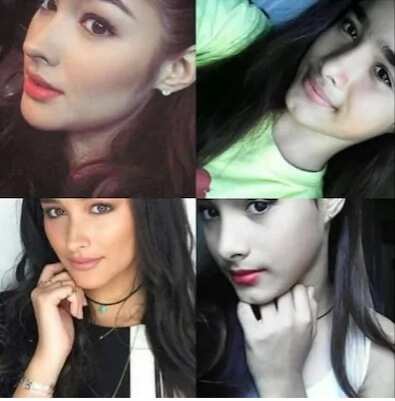 READ ALSO: 10 Pinoy celebs and their Hollywood twins
Just recently, however, we have found Liza Soberano's twin and she's not a foreign celebrity. Her pictures on Facebook and Twitter have been shared by many netizens who say that she's a splitting image of the actress. Netizens have also been asking if these pictures were Liza Soberano's when she was still a young girl or if it is from a different person.
The netizens were somewhat right in guessing that the girl in the photos looks young and that's because Liza's doppelganger is 11 years old. This 'Little Liza' is named Mary Grace Gyo. According to her 'Official' Fan Page, she's a half-german girl from Masbate.
She also looks a lot like American singer Ariana Grande when she puts her hair in a high ponytail, wears cat eye makeup, and a choker on her neck.
Her face is definitely real and not edited on Photoshop. Like Liza who can pull off any look, Mary Grace also looks good even with a boyish cap.
Mary Grace has admitted that her idol and inspiration is indeed Liza. She hopes to meet her in the future.
Currently, the young star hasn't reacted to this yet. Perhaps she hasn't seen the viral photos of her twin online because she's busy on her United Kingdom tour with on-screen partner Enrique Gil.
Hopefully ABS-CBN's management team recognizes and gets Little Liza as a star in their shows. She can very well be Liza's little sister or younger self in future shows.
RELATED: 10 PH celebrity pairs that will pass as twins
Source: Kami.com.ph