Senator Antonio Trillanes IV urges the Department of Education (DepEd) to make the K-12 curriculum optional to avoid limiting student choices which may lead to higher unemployment rate.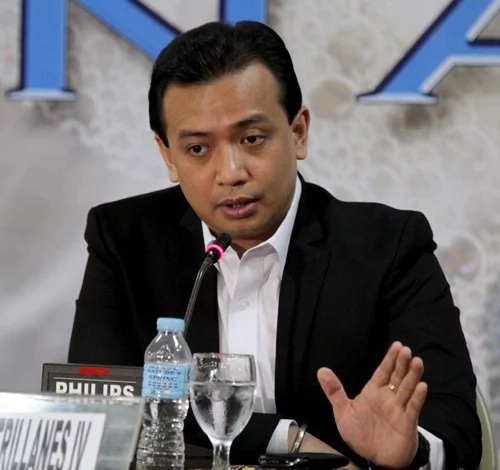 According to Trillanes, the estimated 400,000 students who failed to enroll in Grade 11 this year proves that DepEd is ill-equipped to implement the program.
Trillanes, together with Magdalo Partylist Representatives Gary Alejano and Francis Ashley Acedillo, on May 4, has filed a petition with the Supreme Court, calling for the suspension of Republic Act 10533 or the K-12 Law.
Under the K-12 Law, according to the senator, those who finished only up to Grade 10 or only four years of high school would be considered undergraduates and would have limited options.
They can't be competitive anymore. Most likely, they will end up as construction workers, domestic helpers, prostitutes, or criminals," Trillanes told the Kapihan sa Manila Bay forum.
Trillanes, now calls for the K-12 Law to be optional, to allow students who completed Grade 10 to be considered high school graduates and open up the possibility to proceed to college or to technical-vocational courses at once, while those who want to continue the K-12 program could still do so.
"As it is, finishing Grade 10 would be enough for them to pursue higher learning. They can still compete. They can be hired and they won't be classified as high school undergraduates," he added.
In response to Trillanes, DepEd Assistant Secretary Jesse Mateo said the number is not yet definite as more students are still enrolling in Grade 11. He also said that DepEd also recognizes that there are problems in implementing the program, and has measures to address these so it cannot be considered a "crisis" just yet.
One of the measures that DepEd has is the voucher system wherein a student is provided with funds to subsidize enrollment in a private school for senior high.
"It's important that we implement this because in the long term, it will benefit the country," Mateo concluded.
Trillanes had been the sole negative vote during K-12 Law deliberation in the Senate, said in an earlier interview that the law must be suspended until an adequate and comprehensive study on the impact and effects of the implementation of the said program can be undertaken, particularly on the already impoverished sectors of our society.
RELATED: Sotto wants prison island for drug lords
Source: Kami.com.ph