It has been 16 years since Brazilian volleyball superstar Leila Barros graced Manila with her presence. Thankfully, with the 2016 FIVB World Club Championship happening this October, Filipino fans might be seeing the famed 5-foot-10 opposite hitter once again.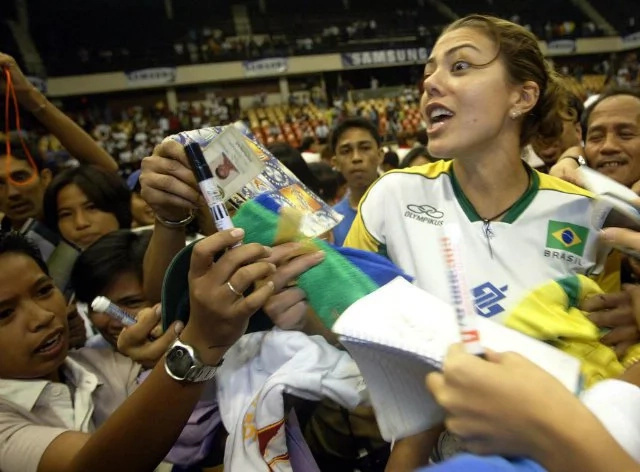 Back in 2000, Barros was the darling of the crowd when she led the Brazilian women's national team to a bronze finish in the FIVB Grand Prix held in Manila. Her charm and athleticism, along with the other national teams in the tournament, paved the way for Filipinos to fall in love with the sport.
Barros had been a big inspiration and set the stage for Filipina volleybelles including Alyssa Valdez, Gretchen Ho, Rachel Ann Daquis, Denden Lazaro, Amy Ahomiro, Cha Cruz, Michele Gumabao, Melissa Gohing, Aby Marano, and Ara Galang to be passionate about the well-loved sport.
Charo Soriano, playing coach of BaliPure Purest Water Defenders in the Shakey's V-League and a co-founder of Beach Volleyball Republic, is one of the biggest fans of the Brazilian player, even claiming the jersey no. 8 similar to Barros's.
Even before becoming the popular Ateneo Lady Eagle, Soriano said that Barros had inspired her to play the game.
Brazilian volleyball player Erica Adachi will be joining Barros when she comes back to Manila.
Adachi is also very popular among Filipino fans. She played as setter for Petron Blaze and helped them win the Philippine Superliga Grand Prix in 2014 and 2015.
It was Adachi who broke the news of Barros's planned return to the Philippines.
"Leila Barros and I are planning something in the PH after the Olympic Games!" tweeted Adachi.
Currently, Barros is the Secretary of State for Sports, Tourism and Leisure in her hometown, Brasilia. She might act as consultant for the Brazilian team Rexona Ades when they set foot in Manila for the FIVB World Club Championship this coming October.
Source: Kami.com.ph