Gay Chinese man sues hospital after forced conversion therapy
Homophobia continues to be a prevalent, if not disturbing, issue, despite the LGBT community's efforts to fight for equal rights.
China, the world's most populous country, is considered as one of the most homophobic countries in the world. People have believed that homosexuality was a mental illness, until it was debunked in the early 2000s. Despite the outdated belief, there are still Chinese clinics offering 'conversion therapy' in the form of electric shocks and hypnosis. These 'cures' are said to make the gay Chinese take on a more heterosexual lifestyle, which have not been proved to be effective due to the disturbing nature of the treatments.
A man whose surname is Yu was taken to Zhumadian No. 2 People's Hospital in Henan province in October last year after he admitted to his family and wife that he is gay. He was also about to divorce his wife of 10 years and was about to sign his divorce papers when he was brought to the mental hospital for conversion therapy, where for 19 days he was lashed on his bed and force-fed drugs. He also alleged that nurses beat him.
He has now sued the hospital for 'limiting his personal liberty and inflicting emotional distress', requesting 10,000 yuan (or approximately $1,550) in compensation and a written apology from the hospital. His case has been accepted by Zhumadian City's local court on June 13, Monday.
Yu's lawyer, Huang Rui, said that his client was physically and mentally damaged by his treatment at the mental hospital. The lawyer also said that Yu was undressed and laughed by several men, taunting him if he was a man or a woman.
Any doctor, nurse or medical staff related to Yu's case has not responded yet.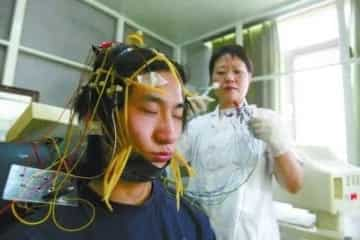 Yu was saved by his long-time boyfriend, a man whose surname is Li, who also contacted LGBT groups and the police for advice. On October 8, 2015, Li received a call from his boyfriend who told him that his family was forcibly taking him to a mental hospital. After going through various clinics, Li located the right hospital only to be refused visitation rights. The doctor-in-charge said that only Yu's wife can visit him. Li shared that Yu's wife still could not accept her husband's sexual preference despite having two kids with her.
China is also one of the many countries that do not allow same-sex marriage, despite a gay couple's efforts to challenge the law earlier this year. Their case was rebuffed by a court in Changsha City last April. Chinese LGBT group PFLAG China also started a social media campaign to stop the gay Chinese from going into fake heterosexual marriages to appease their families.
On June 13, 109 Chinese LGBT groups have also expressed their sympathy towards the victims of the Orlando gay nightclub massacre. Through the state media, these groups have shared stories of their discrimination as well as their experiences on conversion therapy.
It has been known that Chinese mental hospitals have been a 'dumping ground' for any non-conforming citizen, ranging from gay youths to political revolutionaries. It must also be noted that it is against the law if these dissidents have been brought against their will.
"The personal freedom of Chinese citizens is protected by law and cannot be infringed upon by hospitals or one's family members," Yu's lawyer Huang said, who noted that defendants are most likely to win on cases related to illegal confinement in mental hospitals.
Yu's case is not the first of its kind, as there has been an instance of another gay Chinese who filed a suit against a medical institution. In 2014, a Chinese man sued a clinic offering conversion therapy for 'false advertising'. Despite the defendant admitting he had voluntarily presented to the clinic's recommendations of having a costly round of electric shocks, a  Beijing court still granted him an estimate of $550 in compensation.
As Yu has now fled the country with his boyfriend, he continues to have nightmares of his experience. He also remains legally married to his wife, because he never had a chance to sign those divorce papers.
RELATED: Filipino stars react to tragic Orlando shooting
Source: KAMI.com.gh