Pinoy trees that rival Japan's cherry blossoms
The annual Sakura or cherry blossoms festival in Japan attracts thousands of tourists, including Filipinos. So it wasn't much of a surprise that many Pinoys got excited when news about cherry blossoms planted locally in Benguet broke out, but there are some who are not pleased.
Haribon Foundation and some netizens expressed concerns regarding the 30 cherry blossom trees planted at the upcoming sakura park in Atok, Benguet, an initiative that marked the 40th anniversary of the diplomatic ties between the Benguet province and Japan's Kochi prefecture.
They maintain that our own Philippine trees could rival the beauty of the sakura.
Netizen Kris N. Ordoñez enumerated in a Facebook post some of these beautiful local trees.
"To believe that we don't have flowering trees to rival the cherry blossoms of our anime-saturated childhood is criminal to some. Personally, I find it sad that most of us don't know that we also have beautiful natives like the Bagawak-morado (Clerodendrum quadriloculare), Siar (Peltophorum pterocarpum), Malabulak (Bombax ceiba), Molave (Vitex parviflora) and Bagras (Eucalyptus deglupta), as well as rare endemics like the Mangkono (Xanthostemon verdugonianus), Yakal (Shorea astylosa) and Pulang Lauan (Shorea negrosensis)," said Ordoñez in his post.
Ordoñez tried marshaling the Filipino pride that Pinoys often cry out. He stressed that the planting and promoting of exotic plants may compromise the native and endemic biodiversity.
Wild Bird Club of the Philippines member Maia Lorlina Tanedo also shared her thoughts on Facebook on how the Salimbobog or Balai Lamok tree can be comparable and as beautiful as the Japanese cherry blossom.
"While the Japanese have been working hard to promote their beautiful cherry blossoms, we Filipinos have been busy imitating them: promoting what is theirs. We should be busy promoting what is ours. We should be inspired by their efforts, not only of the actual plant," Tanedo said in a post.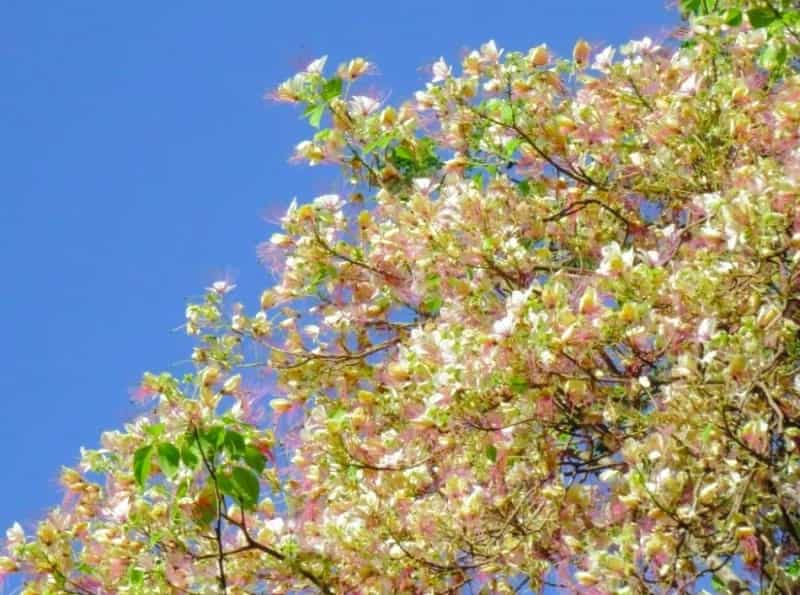 Haribon Foundation asserted that the Philippines has its own trees that it can be proud of and can be used to attract tourists on its own. The foundation also reminded everyone of the disruption that the exotic trees might cause to Atok's local biodiversity.
As an advocate for environment preservation, Haribon Foundation explained that as a new entity in Atok's ecology, the cherry blossom is yet to adapt to the weather, wildlife, soil, and biodiversity of Benguet as compared to local trees.
"Cherry blossom trees may potentially become invasive, and halt the ecological process of the area in Benguet where they are being planted. They may not survive long, and if they do, they may not attract vast biodiversity like birds, insects, and other wildlife like native trees do," said Albert Balbutin of Haribon Foundation.
Haribon also warned of possible occurence of nutrient imbalance between soil and plants that may result to a complete wipe out of the biodiversity.
"Diseases and pests invade areas planted with exotic trees and can eventually wipe out entire areas of biodiversity," Balbutin added.
Source: KAMI.com.gh