Nonito Donaire Jr. schools bashers regarding gay biblical references
Professional boxer Nonito Donaire Jr. educates bashers on what the bible says regarding gays.
With the recent mass shooting in Orlando Florida, netizens and stars alike have given their opinions on the matter. One of those stars includes Nonito Donaire Jr.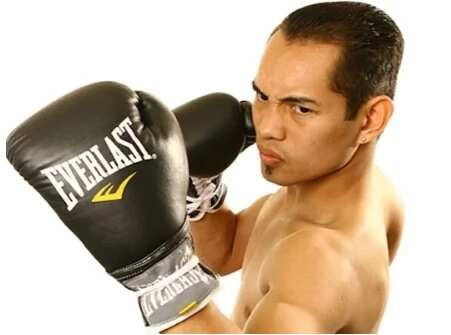 The professional boxer has posted a status on his Facebook account connecting the Orlando shooting with the world-acclaimed boxer Manny Pacquaio's previous statements on LGBT. After Pacquiao's statements correlating LGBT to animals got people mad, he apologized but posted another controversial bible verse on his Instagram account. He deleted that post after receiving backlash from followers once again.
He stated that nobody should take "the bible verse Pacquiao posted about "put to death gays" LITERALLY. You dont need to accept their lifestyle but id rather not see it turned into actual action. Crazy people may use it as an encouragement to do so just like how others say rap music made them violent."
Nonito proceeded to compare the situation with Islam extremists, witchcraft, Holocaust, and ISIS.
Above all, he promotes compassion and love: "without compassion we will fall. Without love we will fall."
The boxer was questioned why he had to bring back this old issue. He clarified what the real issue is.

A netizen commented on his post on Facebook asking for the boxer how the bible verse Leviticus 20:13 should be interpreted. The bible verse says "If a man has sexual relations with a man as one does with a woman, both of them have done what is detestable. They are to be put to death; their blood will be on their own heads."
Nonito explains that he should follow what the "New Testament is leading us not living by the Old Testament." The New Testament is what Jesus Christ is teaching us, while the Old Testament primarily focuses on "Moses Law."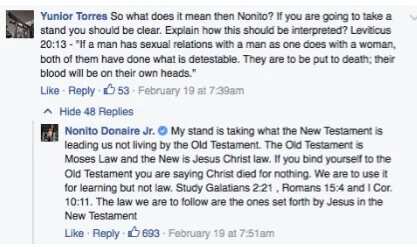 One commenter argued "Two can play at this game. The bible can be spun either way to your liking, it's a pointless exercise to prove your point using bible verses because you'll just get countered by another verse. The thing is self-contradictory."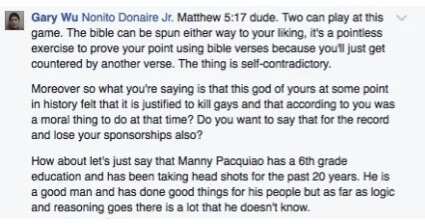 Nonito answered that there were indeed stories from the Old Testament describing God as a "scary angry" one.

Ultimately, the boxer reiterates that his "stance is LOVE" and he doesn't need bible verses to prove it.

One of his followers admitted that he couldn't accept gay people because they are "evil." Nonito replied with a powerful response.

RELATED: Filipino stars react to tragic Orlando shooting
Source: KAMI.com.gh