Cut-off head in Sulu, now in Manila
The Philippine National Police (PNP) said that the decapitated head found inside a plastic bag in Jolo, Sulu, following the announcement of the Abu Sayyaf Group (ASG) that it beheaded Robert Hall, was delivered to Manila for DNA testing.
PNP Crime Laboratory Director Chief Supt. Emmanuel Aranas announced that the severed head which may be Hall's was flown early Tuesday morning to Manila. It is now in a mortuary in Pasay City.
Chief Supt. Aranas said that the mortuary was visited by Crime Laboratory personnel in order to get a specimen that will undergo forensic examination. Consequently, they will verify if it is indeed Hall's head.
The Canadian Embassy was informed of the discovery.
Chief of Police Supt. Junpikar Sittin said they retrieved the head which is placed inside a plastic bag at around 9 in the evening along Sanchez Street beside the Carmelite Cathedral in Jolo, Solu.
"Initially, our personnel thought it was an explosive, but when the SOCO (Scene of the Crime Operatives) team inspected the plastic bag, it turned out that it's a head of an old Caucasian man," Sittin told the media by the phone.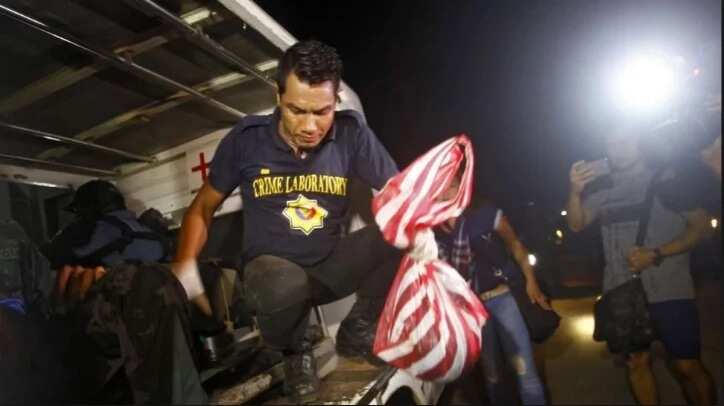 "I cannot say outrightly if it belongs to Hall, but based on description, it fits the description," he said.
Earlier today, The Palace denounced the execution of Hall by the ASG in Sulu.
"We strongly condemn the brutal and senseless murder of Mr. Robert Hall, a Canadian national, after being held captive by the Abu Sayyaf group in Sulu for the past nine months. We extend our deepest sympathy and condolences to his bereaved family," Communications Secretary Herminio Coloma Jr. said in a statement.
"We truly regret that our people's cherished tradition of extending gracious hospitality toward foreign nationals has been marred by a small band of criminals whose despicable actions have been abetted by the extortion of ransom from their previous victims," Coloma added.
RELATED: PH gov't condemns Canadian's beheading
Source: KAMI.com.gh