The Pope Responds To Duterte's Apology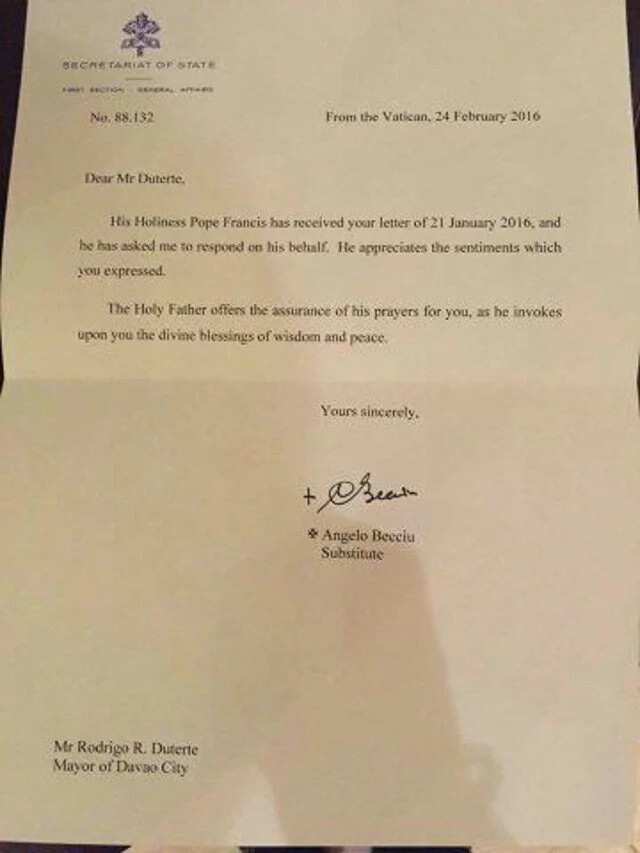 The Pope has responded to Presidential Candidate Rodrigo Duterte's letter of apology.
"His Holiness Pope Francis has received your letter of 21 January 2016...He appreciates the sentiments you have expressed," reads a letter from the Vatican dated February 24, 2016."
"The Holy Father offers the assurance of prayers for you, as he invokes upon you the divine blessings of wisdom and peace," the rest of the letter reads.
Duterte was only informed of the Vatican's letter on Sunday, April 3, while he was campaigning in Bohol.
The Mindanaoan presidential bet cursed Pope Francis on November 30, 2015, at the tail-end of his speech during his declaration as the standard-bearer of political party PDP-Laban for the 2016 elections.
Since the incident, he has called his statement a "mistake" and a "stray bullet," saying his cursing was actually directed at the traffic woes caused by government mismanagement of the Pope's visit.
The act was widely condemned by the Catholic Bishop's Conference of the Philippines (CBCP). Other Catholic and religious groups have condemned his swearing heavily.
During his sorties, he also frequently apologizes to parish priests of areas he visits.
Duterte had said last January that he was planning to visit Pope Francis to personally apologize. He instead opted to write a letter.
Read more here: Duterte curses Pope Francis over traffic during his visit
photo from rappler.com
Source: KAMI.com.gh