Senior High officially starts
June 13 marks the start the school year 2016-2017 for 24 million or more Filipino students including the first batch of senior high students.
The full implementation of the much-talked about K to 12 program welcomed around 1.5 million students for Grade 11 in 11,029 private and public high schools in the country.
Unfortunately, the Department of Education (DepEd) only received half of the expected number of enrollees during registration period.
Militants have been vocal about the possibility of high number of dropouts because of the implementation of the reform program due to implication of high cost.
DepEd Secretary Armin Luistro admitted that they are only 50% ready to implement the new system.
Students who will start Grade 11 are estimated to be around 200,000 for private schools, while the bulk of 1.3 million are from public schools.
According to DepEd, these students will be accommodated in 5,990 public schools and 5,046 private schools, public and private universities and colleges, and technical-vocational institutions in the country.
"These programs offer our incoming senior high school students real choices, consistent with the intention of the K-12 program, which is to make education learner-centered, inclusive, competence-based and responsive to the needs of the community," Assistant Education Secretary Elvin Uy said in a statement on Sunday.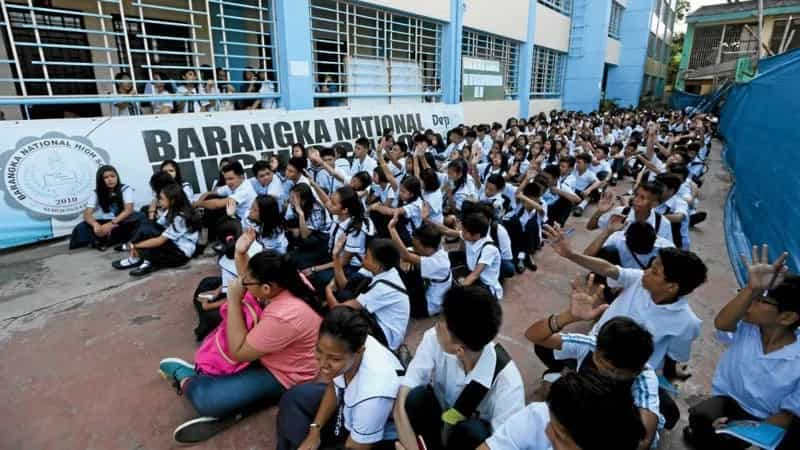 There are 57,000 program offerings in four tracks which students can choose from ranging from academic, technical-vocational livelihood, sports, and arts and design.
Each student is mandated to take 15 core subjects, nine specialized track subjects, and seven applied subjects.
All Grade 11 students will take the same core subjects which include communication skills, Filipino, literature, mathematics and science, among others.
Applied track subjects deal more on the track and strand they have chosen and the specialized subjects has various sets of competency depending on their chosen track, strand or tech-voc specialization.
The roll-out of K-12 still receive various criticisms among groups including the low number of enrollees.
"The low enrollment in SHS only shows how great a burden K-12 is for students and their families. Imagine a minimum wage earner suddenly facing the problem of enrolling his or her child in a private school because of the way K-12 was set up," incoming Kabataan Rep. Sarah Elago said in a statement.
DepEd introduced a voucher program which is set to subsidize at least P22,500 of the tuition of a senior high student.
The government had set aside P12 billion for the program translating to at least 708,000 students.
Regretably, it still failed to entice incoming students to enroll on the set time period.
"For students forced to enroll in private schools due to the lack of public senior high schools in their area, this means they still have to shell out money since many schools charge upward of P30,000 in tuition and other school fees," Elago said regarding the voucher program.
Luistro admitted that there is room for improvement and they are open for feedback.
He reiterated the need for the program as it has been long overdue.
Incoming education secretary Leonor Briones also made his positive support regarding the implementation of the program.
However, militant groups are still set on calling out to the incoming President Rodrigo Duterte for the halting of the implementation of K-12.
"We ask incoming President Duterte and Education Secretary Briones to heed the demand of the youth and the people to stop K-12. We demand that the incoming administration consider the students who completed Grade 10 as high school graduates and allow them to enroll in college," said League of Filipino Students (LFS) secretary general Aries Gupit.
DepEd expressed their call for support in order to facilitate a smooth transition to the new educational system and urged the public to call their help desk at desk at 6671188 and toll-free number 1800-1888-6349 for any concerns regarding the SHS program implementation. Everyone can also e-mail them through shshelpdesk@deped.gov.ph.
Source: KAMI.com.gh