Reigning Miss Earth Angelia Ong steps down as the new Miss Philippines Earth is crowned on Saturday, June 11, at the UP Theater in the University of the Philippines Diliman, Quezon City.
The 21 year old from Palawan Miss Schweighart, was crowned Miss Philippines Earth 2016 at the Filipino-themed pageant generally advocates for the conservation of our Mother Earth.
During the second and final question and answer portion (as there were two, the top 5 candidates were asked whether what assistance would they ask from the President-elect Duterte on their climate change advocacy if given the chance to talk one-on-one with him.
On her immediate answer, Imelda called on President-elect Rodrigo Duterte to ban genetically modified food in the country.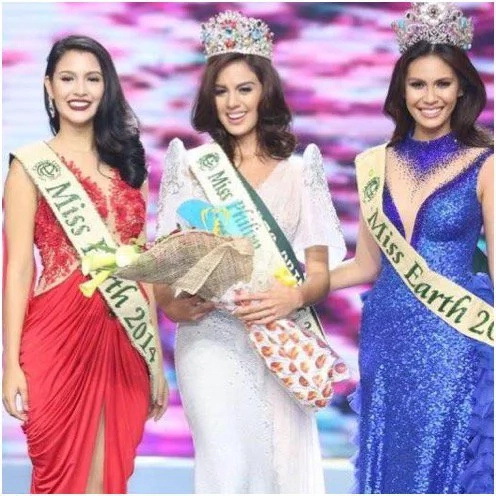 "My climate change advocacy is banning genetically modified organisms (GMO) and genetically modified seeds, because I believe in natural food in order to feed our mind, body, and soul. So if we really want to feed our minds and become smarter, let's support banning GMO, [president-elect] Duterte. At the same time, I would like to encourage him to put bike lanes here in Manila, and I would take him to Puerto Princesa and I would show him how clean our place is", she said.
Earlier during the pageant, the Top 12 finalists are asked to pick a hashtag from a bowl and to speak about the issue that the hashtag stood for. Imelda picked up the hashtag #TunayNaDiwaNgKalayaan (the true essence of freedom).
On her answer, she said, "Tunay na diwa ng kalayaan ay ang pagpapalawak ng isipan (The true meaning of freedom is opening up our minds). First of all, we must open our minds and do our research about the world in order to find the solution to what is already happening to what is around us. Yes, there is a problem, but there is a solution as well. Let's all fight together, because we are the people of now, and we will help each other to save the planet Earth."
Right when the coronation night was on the dot held a day before the anniversary of Philippine Independence day, the issue she picked to talk about is deemed just on point. This made her take home the crown and begin her reign as the new Miss Philippines Earth 2016.
She will represent the country in the 2016 Miss Earth pageant and will be getting another shot at winning the country's 4th Miss Earth crown after back-to-back victories by Angelia Ong (2015) and Jamie Herell (2014).
Source: Kami.com.ph