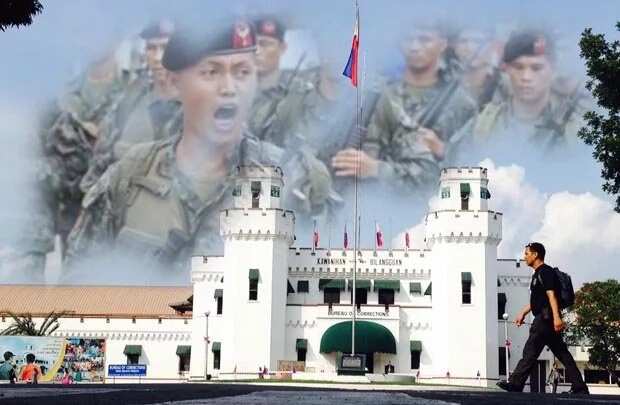 The New Bilibid Prison (NBP) in Muntinlupa City may soon find itself guarded by 1000 Special Action Force (SAF) troopers as part of incoming President Duterte's war on drugs and criminality.
Incoming justice secretary Vitaliano Aguirre revealed on Saturday, May 11, that he has already coordinated with incoming Philippine National Police (PNP) chief Ronald Dela Rosa in fielding SAF troopers in the NBP.
He said that the image of the NBP jail guards are tainted by the discovered irregularities inside the prison including gun running and drug peddling, hence the need for them to undergo re-training.
"All the jail guards, employees (image) are tainted, so if there is no evidence to file criminal cases against them, there should at least be a re-education, re-training," the incoming justice secretary said.
In their absence, the jail guards will be replaced by members of the SAF group, which is considered an elite group of the PNP.
Aguirre believes the SAF is qualified to do the job, as evidenced by their previous involvement in government efforts to stop the illegal activities inside the national penitentiary. However, the incoming justice secretary also acknowledges the possibility that some SAF personnel may be bribed while performing their task in the NBP by detainees, especially those involved in high profile cases.
As a pre-emptive response, Aguirre said he is planning to rotate the SAF troopers and might work with the Armed Forces of the Philippines just to make sure that much needed changes in the national penitentiary will happen.
Previously, incoming President Rodrigo Duterte warned that he will kill policemen who are involved in the drug trade.
"Pag nandiyan ka pa sa droga, ipapapatay kita. Don't take this as a joke. Hindi ako nagpapatawa. Putangina, papatayin talaga kita," Duterte said in a speech during his thanksgiving party in Davao City on June 4.
"If you destroy my country, I will kill you. If you destroy the youth of this country, I will kill you," he said pertaining to people involved in the drug trade.
The incoming president has enjoined the public in his war on drugs and offered huge sums of money as rewards for the capture or death of drug lords. He said that he will give 5 million pesos as a reward for anyone who will be able to capture a drug lord dead, and 3 million pesos for a dead illegal drug peddler. In the event that the drug lord or peddler is captured alive, the amount would be short of several thousands of pesos.
Duterte asked the civilians to arrest drug traffickers and shoot them if they resist arrest and fights.
Source: Kami.com.ph