Pia Wurtzbach shares heartfelt message to Miss USA Olivia Jordan
Miss Universe gives touching message to her roomie and best friend Miss USA Olivia Jordan.
Pia Wurtzbach attended the recent Miss USA 2016 pageant to aid in crowning the winner. Olivia Jordan passed down her crown to the newest Miss USA Deshauna Barber from District of Columbia.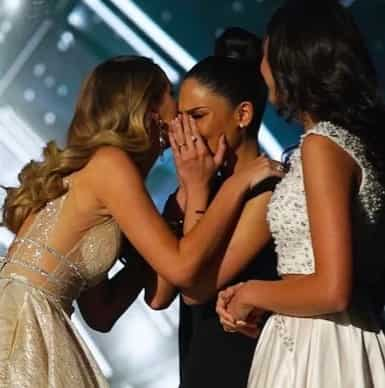 In true pageant fashion, last year's winner has to do her final walk. Pia Wurtzbach shares a heartfelt message to Olivia upon seeing her best friend walking the stage. She reposted a photo from Olivia with the caption: "Goodbyes really are the hardest part.? #Repost @missuniverse I miss you already Queen P. I'm so grateful for the past six months I got to spend with you. Thank you for inspiring me and always keeping it real. Katherine, can't believe that you are passing the crown so soon. Your grace and maturity in this crazy year has never failed to impress me. Love you all and am missing my MUO family on the first day of the rest of my life.? #former#MissUSA #missusa2015 #classof2015#loveyouall"
"Thank you, liv. ❤️ After you did your final walk I saw you come up to me and Katherine while holding your crown. Did you know that I've never seen you wearing it in person?.. ? But there we were, back on the same stage and exact same spot as last year."
Pia also thanked Olivia for helping and joining her at the recent Miss Philippines 2016,"You've been so gracious and supportive. You even flew to the Philippines to be a judge and watch me pass on my Miss Philippines crown. Most of all thank you for making me feel like I wasn't alone during my down moments. Deshauna will do amazing things, I'm so sure of it. But fate bonded us last year and I'll never forget your kindness. I miss you already! Goodbyes really are the hardest part.?"
Pia bids Olivia goodbye because they won't be roommates anymore. Olivia is going back to Las Vegas but Pia promises to catch up with her.
RELATED: Even without makeup, Pia Wurtzbach slays
Source: KAMI.com.gh