Claudine Barretto claps back at rude commenters: "Leave our family alone!"
Actress Claudine Barretto has had it with her rude commenters on her mother's Instagram account. She urges her basher to leave them be.
We've all heard lots of drama coming from the Barretto clan for the past years. Claudine versus her sisters, Claudine versus husband Raymart Santiago, and many more. Admit it, when you hear the name Barretto, you immediately associate it with drama whether television drama or real life drama.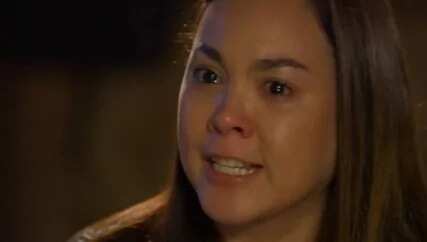 For the longest time, things have gone really silent. No drama issues have popped up recently and everyone seems to be getting along really well within the family. Raymart and Claudine are friends and co-parents to their children and the Barretto sisters and their nieces including Julia Barretto seem to be civil nowadays.
In fact, the bond has become so strong that when Claudine's mother Estrella Castelo Barretto was bashed online, she came in to clap back on the rude commenters.
It all started with a simple post from Estrella's Instagram account. Estrella 'posted' a photo of his grandson saying that he is her "true favorite apo" about eleven weeks ago. A few days ago, however, a hater commented on the photo criticized the 79-year-old grandmother for not having delicadeza with her post.
The commenter is insinuating that Estrella is hurting her other grandchildren by declaring a 'favorite' grandson.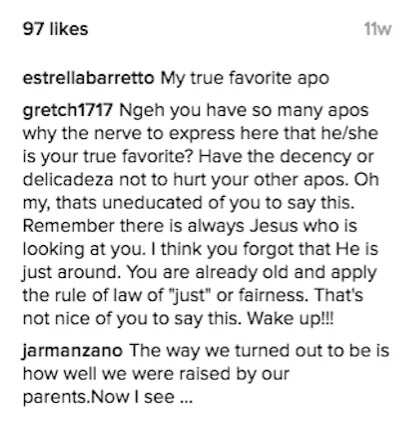 Claudine's mother defended herself saying that it's "none of your nauseous business" and that he/she "must be UNLOVED."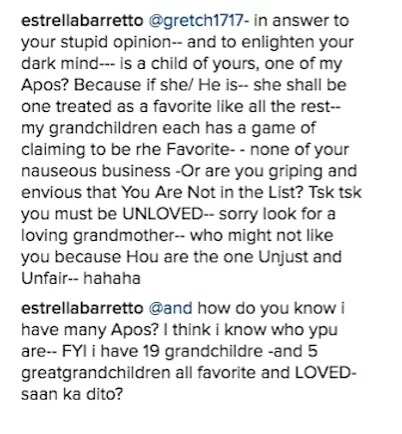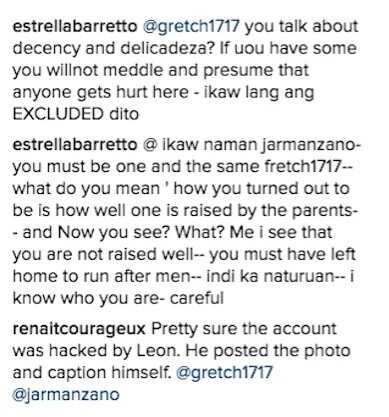 The basher responded by saying: "I thank Heaven for you are not my mother either grandmother that's all I can say!!!" To which Estrella replied that he/she is "not fit" to be her daughter or granddaughter.
Claudine's nephew, Pocholo Barretto explained that they "usually hack our grandparents' phone to post pictures on Instagram claiming to ourselves that we are "the favorite" individually" then hurled insults at the basher.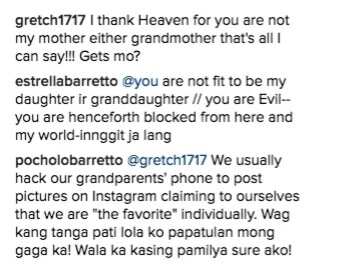 After those comments, Claudine unleashed wrath by replying to the basher. She insulted the hater for picking a fight with a senior citizen and by being "indecent" and "EVIL." She urged him/her to "leave our family alone."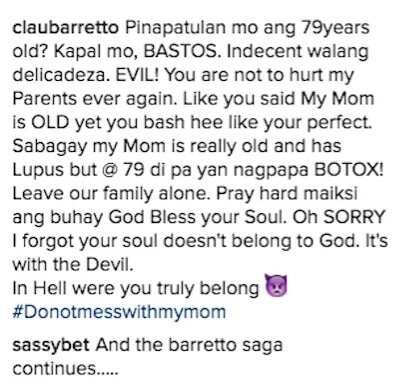 After @gretch717's nasty remarks, a new commenter pissed off Claudine. He/she called Claudine "war freak," "social climber," and no "breeding."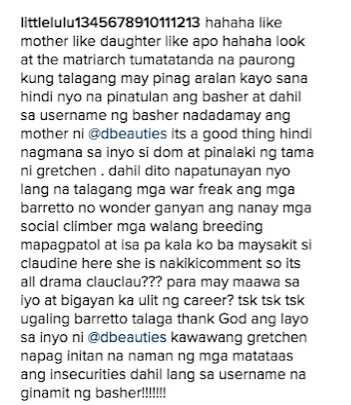 Claudine replied to this new rude Instagram user that she will be not giving him/her respect. She added, "Stop hiding under fake accounts. It just goes to show thst YO R A COWARD."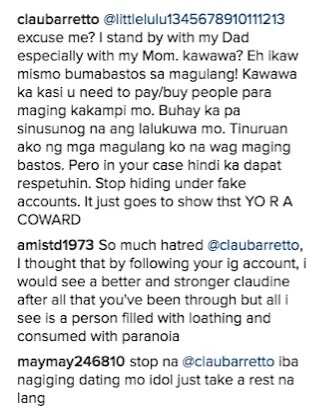 All of these happened while Claudine was still hospitalized. The actress showed her love to mother Estrella with a photo dedicated to her.
RELATED: Baron Geisler gets punched, screams: "Bakla ka!"
Source: KAMI.com.gh