The Philippines' Incoming Presidential Adviser on the Peace Process Jesus Dureza announced on Friday that the opportunity for peace negotiations would not be give to the Abu Sayyaf - contrary to earlier news reports claiming that the Duterte administration would open talks with the bandit group.
Dureza - while on his way to Oslo for an informal meeting with Prof. Jose Maria Sison - clarified his stance with a statement he posted on his Facebook account. He wrote that he wanted to correct the reports issued by media outlets, saying he was open to negotiations with the ASG and the BIFF (Bangsamoro Islamic Freedom Fighters).
He explained that while it was true he attended direct negotiations with the Abu Sayyaf for the release of his friend, the late Canadian tourist John Ridsdel, he was not willing to negotiate with the extremist group in terms of peace talks with the Bangsamoro and the CPP-NPA-NDFP.
The ASG beheaded Ridsdel last April.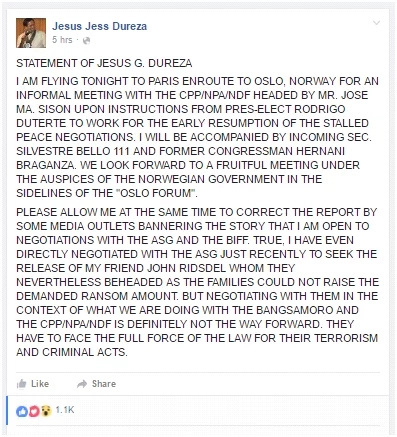 "I have directly negotiated with the ASG to seek the release of my friend John Ridsdel, whom they nevertheless beheaded as the families could not raise the ransom amount. But negotiating with them in the context of what we are doing with the Bangsamoro and the CPP/NPA/NDF is not the way forward." He wrote.
He added that the groups must "face the force of the law for their terrorism and criminal acts."
His post has been shared 314 times and has over 1,100 reactions.
Jesus Dureza was President-elect Rodrigo Duterte's high school classmate, a former press secretary under the administration of Fidel Ramos, as well as press secretary and presidential peace adviser to ex-president Gloria Arroyo. Duterte had considered offering Dureza a cabinet position long before he won the presidential elections and once said that his long-time friend would be a key player in his administration's Mindanao peace process efforts.
RELATED: Government reclaims Abu Sayyaf camp
Source: Kami.com.ph