Rody gets 26% Trust Rating, Leni 45% - SWS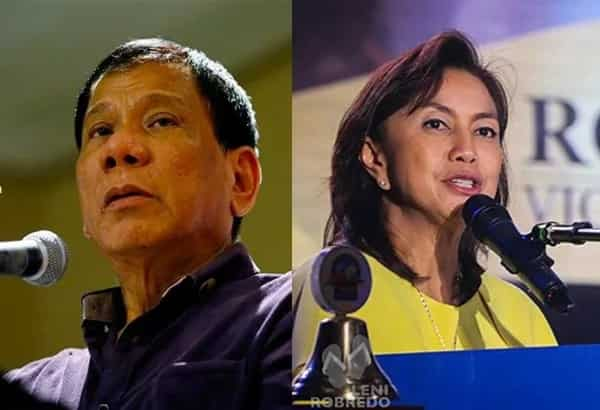 The most recent Social Weather Station (SWS) survey showed President-elect Rodrigo Duterte getting a "moderate" net trust rating of 26%, while Vice President-elect Leni Robredo got a "good" 45% rating.
The survey results, first published in Business World yesterday, was conducted from May 1 -3 among 4500 respondents.
Fifty four (54) percent of the total number of respondents actually said they have "much trust" in Duterte. However, twenty eight (28) percent of the respondents said they have "little trust" in Duterte. As a result, the net trust rating, which is the difference between the "much trust" and the "little trust" ratings, showed that Duterte rated only a little over a quarter of the total percentage, with 17% undecided.
As compared to Vice President-elect Leni Robredo's numbers whose net trust rating is close to half of the total percentage points.
Robredo had 61 percent of the respondents saying they had "much trust" in her and only 17% saying they had "little trust" in her. This gives her a "good" net trust rating, with 21 percent saying they were undecided.
The results of the elections run parallel to the results of the survey with Duterte gaining the highest rating from Mindanao. He scored a net rating of 67% in the whole of Mindanao and 21% in Metro Manila. His scores are not as high in Balance Luzon with only 9 percent, and 17% in the Visayas.
In terms of socio-economic class, the President-elect had net 35 percent trust ratings in Classes ABC and E, and a net 23 percent in Class D.
Duterte who was widely criticized for his rape remark during the campaign period, had a higher net trust rating among men. His net trust rating among men is at 29 percent, while scoring 7 percent lower among women.
Among age groups, Duterte obtained the highest net trust rating among the youngest age group of 18-24 years old, and scored a "good" 42 percent net rating.
Meanwhile, Robredo's numbers also run parallel with the lection results with her gaining the highest rating in the Visayas. She scored a rating of 52% in the Visayas, 46% in Balance Luzon, and 41% in Mindanao. She got her lowest rating in Metro Manila with 345 net trust rating.
In terms of socio-economic classes, Robredo got her highest rating from Class E with 46%. She scored 45% in Class ABC and 44% in Class D.
As expected by many, Robredo's net trust among female respondents was higher than among men, with a 7% difference as well (48 percent versus 41 percent). While her net trust rating among age groups was also relatively similar to that of Duterte.
Duterte won with a wide margin over his closest rival, Mar Roxas, while Robredo won with small margin over Bongbong Marcos.
The non-commissioned survey used face-to-face interviews and had a plus or minus one percent sampling error margin in national percentages.
Source: KAMI.com.gh