UN chief condemns Duterte's endorsement of media killings
United Nations Secretary-General Ban Ki-Moon condemned President-elect Rodrigo "Digong" Duterte for the former's sweeping remark that suggests an apparent endorsement of extrajudicial killings of journalists.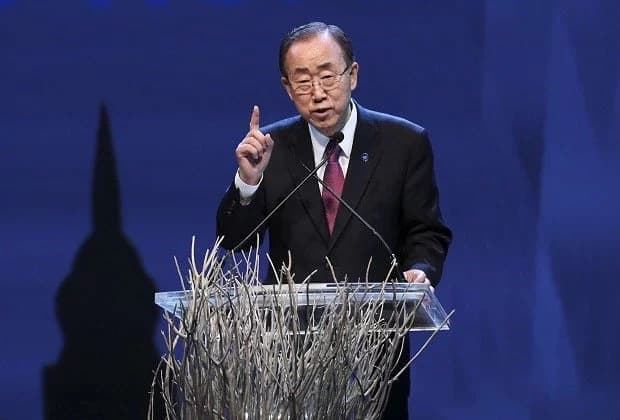 Below is the full text of his statement:
"It gives me great pleasure to attend this annual reception and to receive a copy of the UNCA Directory for one final time as Secretary-General of the United Nations.
 When I am relaxing with my grandchildren next year and they ask me, "What did you do when you were Secretary-General?" I can show them the photos in this directory and tell them: "I had to answer tough questions from all these people."
 Tomorrow, I will take your questions at a press stakeout, and I know some of them will be hard to answer. But I am looking forward to it, because I have always valued the work you do.
 Put simply, we couldn't succeed without you. I thank you for all you have done, and once more, I pledge my support for you and all your colleagues.
 I will continue to defend the rights of journalists and to do everything possible, publicly and privately, to ensure that journalists have the freedom to work.
 I am pleased to say that our efforts behind the scenes to free detained journalists have had some success, although we cannot speak publicly about specific cases.
 I am extremely disturbed by recent remarks by the President-elect of the Philippines, Rodrigo Duterte. I unequivocally condemn his apparent endorsement of extrajudicial killing, which is illegal and a breach of fundamental rights and freedoms. Such comments are of particular concern in light of on-going impunity for serious cases of violence against journalists in the Philippines.
 I will also continue to stand up for the rights of journalists and their defenders to be represented here at the United Nations. I have expressed my disappointment that the Non-Governmental Organization Committee voted to deny the Committee to Protect Journalists consultative status with the Economic and Social Council.
 Ladies and gentlemen, Today, I want to thank two UNCA members in particular. Edie Lederer has marked 50 years of service with the Associated Press. Congratulations, Edie! You are a true pioneer, and I hope and expect that you will hold my successor to account, just as you have done for me! I also thank Lou Charbonneau, who is leaving Reuters to become the new UN Director of Human Rights Watch.
 Lou, I am sure you will bring your sharp reporter's eye to this new task. And I have presents for each of you."
Earlier, Christof Heyns, UN expert on summary execution, said that "these comments are irresponsible in the extreme, and unbecoming of any leader, let alone someone who is to assume the position of the leader of a country that calls itself democratic."
Heyns said that the Davao City mayor's pronouncement is equivalent "to incitement to violence and killing, in a nation already ranked as the second-deadliest country for journalists."
Davide Kaye, UN expert on freedom of opinion and expression, was also alarmed at Duterte's comments.
"Justifying the killing of journalists on the basis of how they conduct their professional activities can be understood as a permissive signal to potential killers that the murder of journalists is acceptable in certain circumstances and would not be punished," David Kaye said in the statement, angered with the negative consequences of such remark.
On the other hand, even before the UN Secretary-General's statement, Duterte already came to defend himself noting that he was "misquoted" and "taken out of context."
"I never said that killing journalists is justified because they are involved in corruption," the future president said in a statement on Wednesday.
"I do not condone nor tolerate killing of journalists regardless of the motive of the killers or the reason for their killing. My duty as President is to uphold and enforce the law and I will pursue and prosecute these killers to the hilt in accordance with law, and I will be as I have been protective of the rights of journalists, and for that matter of any citizen, of the Republic," he added.
RELATED: Why Leni wants to take oath with Duterte
Source: KAMI.com.gh