The statement of contributions and expenditures (Soce) of the May 9 election candidates submitted on Wednesday to the Commission on Elections (Comelec) have been revealed, with Sen. Grace Poe being the highest campaign spender among the five presidential candidates.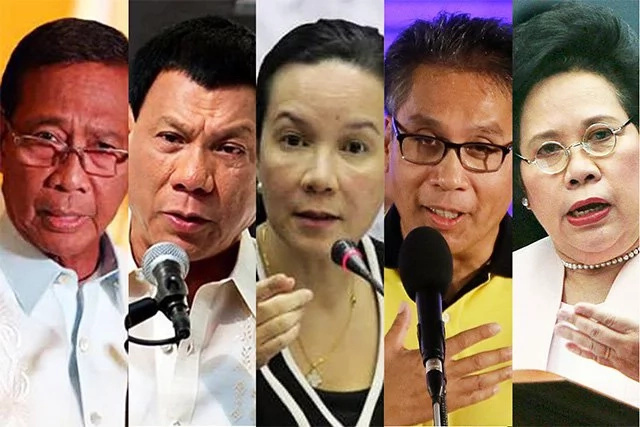 Sen. Poe – who finished third in the race – reported spending P510.84 million on her presidential campaign. Her Soce report states that she got the money from donations of various sources.
Rodrigo Duterte – who won a landslide victory in the presidential election – spent over P371 million during his successful campaign. Duterte's expense report stated that his presidential campaign was funded by big businessmen and patrons in Davao City.
Davao del Norte Rep. Antonio Floirendo Jr. – son of the late banana tycoon Antonio Floirendo Sr. – gave Duterte P75 million, which is 20 percent of the total contributions to the outgoing Davao City mayor.
The president-elect received a total of P375,009,474.90 million from donations with P298 million in cash and the rest in kind, including tables, chairs, lighting, sound systems, posters, and vehicles. Duterte reported that he only used P200,000 of his own money for his campaign.
Manuel "Mar" Roxas II, who finished second place in the presidential race, failed to meet the 6:30 p.m. Wednesday deadline for the submission of the expense reports.
A candidate who fails for the first time to submit the Soce will be penalized with a P10,000 to P30,000 fine, depending on the position.
Second-time offenders of the Soce deadline will be penalized with a P20,000 to P60,000 fine and could be permanently banned from running for government office.
Presidential election fourth-placer and outgoing Vice President Jejomar Binay spent P463.45 million for his campaign while outgoing Senator Miriam Defensor Santiago – who placed last in the presidential race – was the most frugal, with a reported expense of only P74.6 million.
RELATED: Duterte fires back at UN officials
Source: Kami.com.ph