Enrile backs Duterte's citizen arrest order
Outgoing Senate Minority Leader, Juan Ponce Enrile defended President-elect Rodrigo Duterte by saying that the latter's advice for citizens to arrest criminals and drug traffickers in their neighborhood has a legal basis.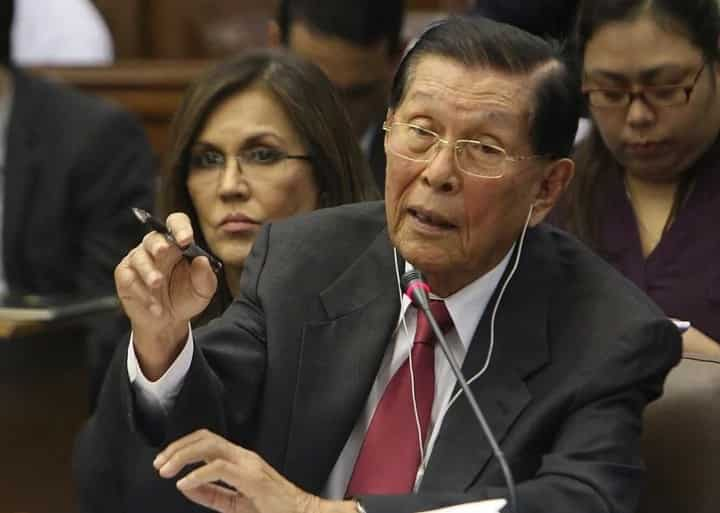 Enrile said that there is nothing in the law that prevents a citizen from helping in the arrest of criminals or drug traders or from shooting them to death when his or her life is in danger.
The Philippine Constitution allows citizens to personally arrest people involved in the illegal drug trade if they are caught in the act of performing a crime, according to Enrile.
The 92-year-old politician further explained that citizens can engage drug traffickers in a gun fight if they are convinced that the suspects are committing crimes in their neighborhood.
The outgoing senator also sees nothing wrong with the president-elect offering a bounty to private citizens for the arrest or killing of drug lords. Enrile explained that the government has always offered reward money for those who will be able to find the fugitives of the law.
However, Senator Panfilo Lacson has recently expressed his concerns about Duterte's urging of private citizens to take up arms and personally arrest or kill criminals and drug traffickers.
"While there is a provision in the Revised Penal Code that allows citizen arrest and self-defense is a valid legal defense for killing a person, the danger of the president-elect's proposal is that civilians are not trained to gather and process intelligence  or conduct operations against armed criminals," Lacson said.
Lacson added that the financial reward should instead be offered to private citizens who give accurate reports about the whereabouts of suspected criminals, drug traffickers and drug lords.
Vicente Sotto III also gave a warning to the public about making citizen's arrest. "I would advise citizens to be very careful. These drug dealers are armed," Sotto warned.
RELATED: An open letter to Rodrigo Duterte: Congrats Mayor!
Source: KAMI.com.gh