80-year-old Filipino vendor walks 20 kilometers daily. The reason will break your heart
The heart and perseverance of a Filipino vendor never fails to shine through, no matter how many years have piled up on him.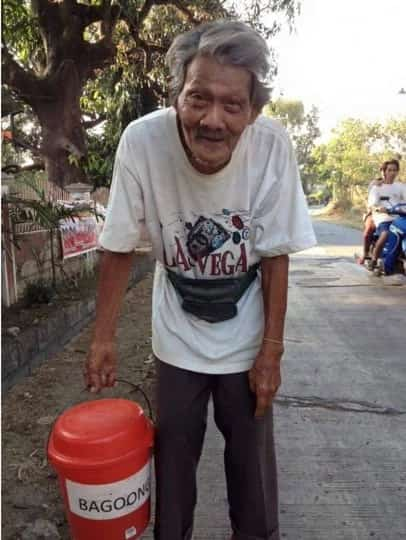 Manong Lauro, an 80-year-old vendor, walks 20 kilometers every day from his home in Bitukang Manok in Pandi, Bulacan to Real Cacarong for an income of 50 pesos. And what does Manong Lauro have to offer his potential buyers? A bucket-full of shrimp paste or what is usually called Bagoong in the Philippines.
Bagoong is a cheap paste made form salted or fermented fish or tiny shrimp and takes quite a time to spoil. Bottles of these are usually sold in supermarkets and because they don't go bad easily, people don't usually buy them in bulk.
And so we can easily grasp an idea of how Manong Lauro struggles every day to make a living; he doesn't even use public transportation since he thinks it'll take a huge portion from his profit, he walks. Definitely not something you'd ever think an 80-year-old should do.
But, nevertheless, this working man endures all struggles just so he could come home with a kilo of rice and a few pieces of fish for his family.
Although what he does is incredibly noble, I can't help but think that this man should be retiring, relaxing, and enjoying his life. But due to certain complications, he is forced to work, even at his fragile age, just so his family has a decent life.
I hope his family finds better job opportunities so this man can finally find time for peace.
I guess the saddest thing is no matter how much we'd like to lie to ourselves, certain people will always end up turning a blind eye and shut out those who not only need the help but deserve it the most.
Source: KAMI.com.gh