EDITOR'S NOTE: 
A Facebook status published by Jose Victor Nakpil Fuentes on June 6 focusing on the President-elect Rodrigo Duterte's sexuality has stormed the social media. The opinion piece enumerated 5 reasons verifying that the crime-busting executive is a closet homosexual. Kami.com.ph does not necessarily share the views of the author.
Here is Fuentes' two cents.
WHY DUTERTE IS A CLOSET HOMOSEXUAL
With my own slight background in psychoanalysis, I've been exploring the possibility that Rodrigo Duterte might be suffering from closet homosexuality typical of ultra-macho men.
Here are a few signs which indicate that he is still confused with his sexuality.
1. His obsession with Mar's phallus.
Throughout the campaign he has repeatedly remarked on the size of Mar's penis. Asking him to compare sizes. (Ano daw?) Not only that, he has remarked that Mar is not "rape-able", Whatever that means.
2. He confessed to be sexually molested as a kid
I don't want to offend any homosexual and there is no conclusive proof to show that children who suffer from abuse grow-up to be homosexuals. What I'll argue instead is that Rodrigo Duterte might have under-developed as a result of the abuse which lead him to have distorted views on his own sexuality. This is not so hard to understand and child abuse, especially of a sexual nature is a real social problem.
3. He overcompensates
He likes the image of himself riding the motorcycle to exude an antiquated male notion of virility more than anything else. Because really, you can't catch a criminal by being that conspicuous. When he makes his rounds around Davao, he makes sure na laging may "nakabukol" and we're not talking about his crotch but his gun. I'm sure he won't mind if people mistake it for the other.
4. Mistresses
Why does he keep more than one mistress and openly brags about it? Is it to show other men that he is the alpha-dog? We typically associate more mating partners with a masculine characteristic but in the animal kingdom, that is not the case. Isn't it more manly and more challenging to satisfy one woman over and over again? It is considered weak in some cultures then and now if you can't "keep" your woman.
5. Mannerisms
Ever notice his weird mannerisms?
This I'll try to say through a photo comparing Dolphy in his "bakla pose" and Rodrigo Duterte in his iconic hand to cheek pose. If you don't get it, then your gaydar is totally down.
Welcome to the PEDERASYON Mader Rodée. We can no longer wait for your metamorphosis and turn into a colorful butterfly.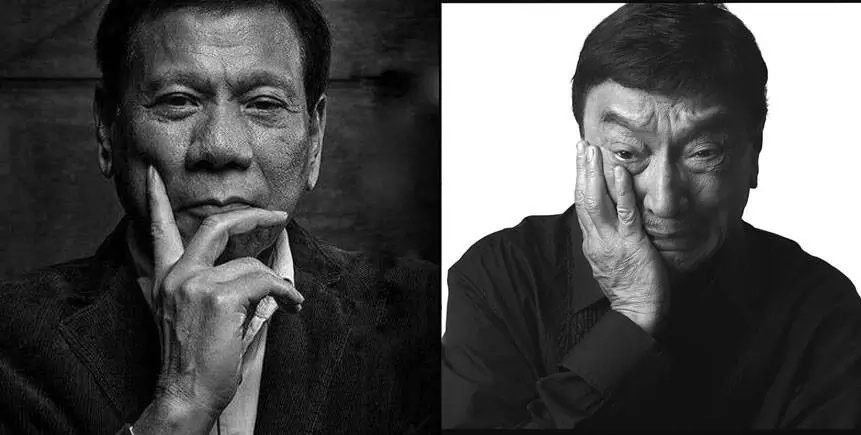 RELATED: Find out why Duterte sees himself as a butterfly
Source: Kami.com.ph