Supermodel Karlie Kloss on PAL: 'worst customer service of all time'
On Tuesday, June 7, former Victoria's Secret model Karlie Kloss complained about the service that she has received while on-board the Philippine Airlines (PAL) in a series of social media posts after missing her flight.
Her first attack came from Snapchat, where she posted a selfie with a screen behind her featuring the PAL logo. There was also a message, written in red, saying: "NO ONE FLYS PHILIPPINE AIRLINES…AND NOW I KNOW WHY."
The same photo was also uploaded in her Twitter account. Klos s tagged PAL in the photo, additionally tweeting: "@flyPAL has the WORST CUSTOMER SERVICE OF ALL TIME. Most BUDGET AIRLINE. Rude & disrespectful. Shame on You @flyPAL."
Prior to her complaints, the supermodel came from the Council of the Fashion Designers of America (CFDA) awards. As the brand ambassador for Swarovski, she presented the Swarovski Award for Womenswear.
Kloss continued her attacks on Snapchat, posting more videos bashing the airline. She shared that given the nature of her job, she gets to travel internationally on a weekly basis. She touted PAL's customer service to be the worst, and sarcastically thanked the airline for her experience.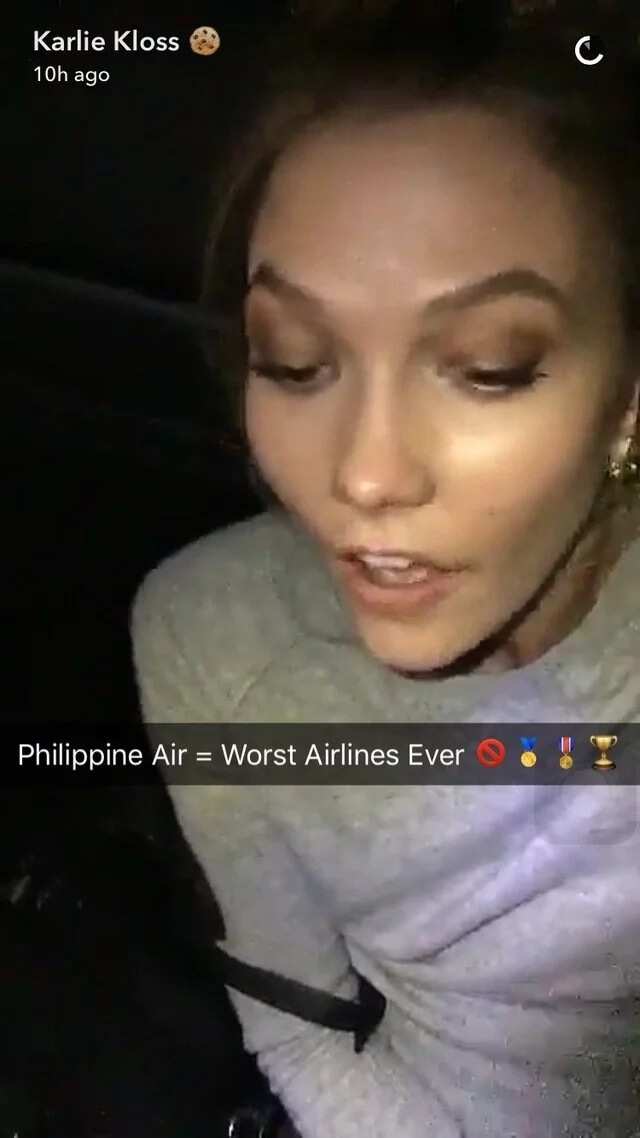 The last snap she made about PAL was a clip of her going home, accompanied by the message: "The sad ride back home from the airport when you miss your flight."
Philippine Airlines has responded to the matter, tweeting Kloss an apology.
Kloss replied, accepting their apology and saying that she will message them personally.
There has been no update if the top model would be given a special flight, but some local netizens took the opportunity to express their ire on the airline.

Source: KAMI.com.gh