Facebook speaks up about taking down posts by Ed Lingao, EJAP
Giant social network Facebook finally broke its silence with regard to taking down posts by Ed Lingao and Economic Journalists Association of the Philippines (EJAP) that talked against the President-elect Rodrigo Duterte.
Television news anchor Ed Lingao posted statutes decrying Duterte's decision to grant late president Ferdinand Marcos Sr to be buried at the Libingan ng mga Bayani while EJAP posted about the president's statement over media killings.
According to Facebook, Lingao's post was taken down last week incorrectly following a report from users. The company also said they have already restored such.
"We have clarified that one piece of content was mistakenly removed and has since been restored. When we have millions of reports to review each week, mistakes do happen. Once we're alerted to errors we quickly act to resolve them, and conduct regular audits and quality assessments to help prevent them from happening again," said Facebook.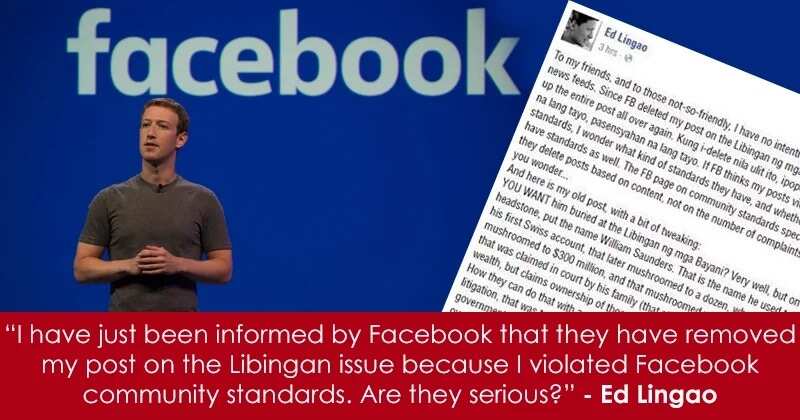 With regard to EJAP's profile, Facebook said that it was removed correctly on June 3 due to a violation to their authenticity policy. Facebook revealed that personal profiles should be used to represent people and not organizations.
"We are working with EJAP to transfer their profile to a Page and convert their friends to followers. We have offered to transfer the profile to a Page for EJAP, which will convert their friends to followers."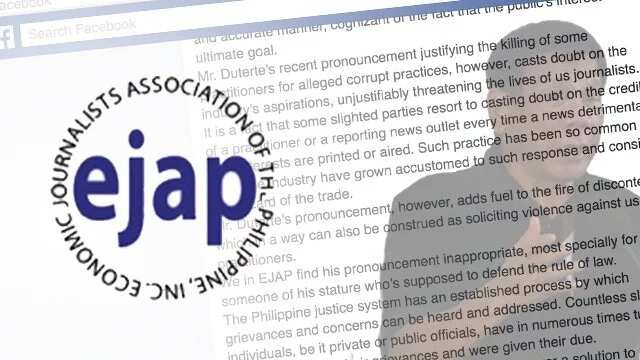 Facebook also explained that posts and pages can only be taken down if they violate standards set by the company. It further said that one report is actually sufficient to take down a content as long as it "violates our policies, and multiple reports will not lead to the removal of content if it meets our standards."
Facebook also does not allow nudity, hate speech, and graphic violence.
"In order to maintain and open and safe environment on Facebook, we have global community standards that describe what is and is not allowed on our service. Anyone can report content to us if they think it goes against our standards," Facebook said.
RELATED: Facebook takes down another anti-Duterte post
Source: KAMI.com.gh