Pacquiao's taxes ballooned - Henares
Bureau of Internal Revenue (BIR) Commissioner Kim Henares said that the tax liabilities of incoming Senator and world champion boxer Manny Pacquiao ballooned.
Commissioner  Kim Henares said that it was already three (3) years ago when the BIR assessed the outgoing Sarangani representative a tax deficiency of P 3.2 billion for income earned in 2008 and 2009, including his penalties.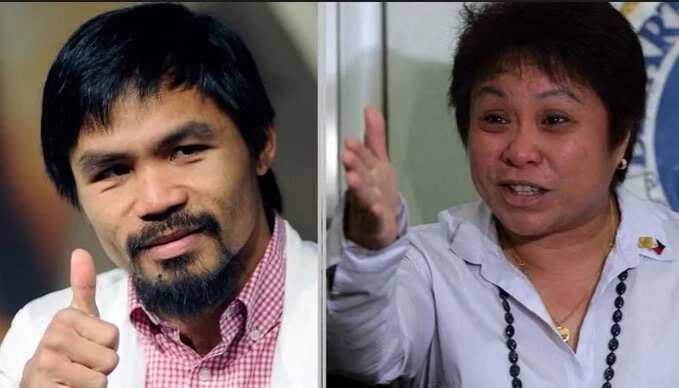 "He sued us, we did not sue him. Since then, the penalties have been increasing," Henares said, adding that the move of Pacquiao in suing the bureau did not have the effect of freezing his tax liabilities.
Henares said that Manny Pacquiao should settle his obligations.
She also denied the issue that she and Pacquiao has entered a compromise settlement.
"What he paid were taxes for succeeding years," the commissioner said.
In the House of Representatives, Manny Pacquiao is the only billionaire member, his network amounting to Php. 1.6 billion back in 2014. It was also reported that he earned 240 million US dollars from the 600 million US dollars gross income which his battle with Floyd Mayweather Jr. last year had produced.
Earlier this year, Senator Aquilino "Koko" Pimentel III said that he is filing a bill which grants a special tax exemption for Pacquiao.
"Manny, being a Filipino, promotes the Philippines. The marketing value for the country is priceless," he said, adding that a tax privilege is justifiable, reasonable, and worth it.
Pimentel said Filipinos should support and inspire the boxer.
"During his training, let us inspire Manny by way of passing a special tax exemption act for this particular fight. Anyway, we are not blind that a substantial part of his boxing proceeds goes to the people through Manny's helping hand," Pimentel said.
"Manny is now part of our history and of world sports history. Let's give him this tax incentive in recognition to his invaluable efforts to promote boxing and the country around the world," he added.
RELATED: A peek inside the Pacquiao's 700M Forbes Park mansion
Source: KAMI.com.gh