CHR, church condemn vigilante killing
The Catholic Church hierarchy and the Commission on Human Rights (CHR) in the Western Visayas region have expressed their concerns over alleged cases of vigilante executions of suspected criminals.
These alleged summary executions came after President-elect Rodrigo Duterte urged both the police and the public to kill criminals and drug lords who try to resist arrest.
While it is not yet known who were behind the summary executions, the CHR is worried that more people from the public and the police force would act as vigilantes in order to kill more suspected criminals.
"Killing, even of criminal offenders, is a crime, unless [the death penalty] is legalized. Vigilantism will spur human rights violations even if the intentions could be well," CHR Western Visayas regional director David Bermudo said in an interview.
Five suspected criminals were recently shot to death in three different provinces – Iloilo, Negros Occidental and Negros Oriental – after Duterte expressed his support for killing criminals, especially those who are involved in illegal drug trade.
Bermudo added that due process is a right of every citizen, even criminals.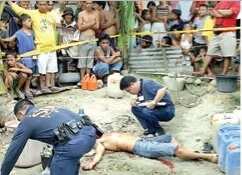 "There should be presumption of innocence. But now, there appears to be presumption of guilt even if one is suspected of [committing] a crime," Bermudo explained.
Meanwhile, the social action director of the Archdioces of Jaro, Msgr. Meliton Oso, said that killing a criminal is a violation of basic human rights to life whether it is legally done by the government or illegally done by vigilantes.
Although he wants to eliminate illegal drugs that continue to destroy the lives of many people in the society, Oso also believes that it should be done through due process. The social action director added that God does not condone killing criminals.
"God does not wish the death of a sinful man. He wishes for their conversion," Oso explained.
RELATED: 5 dead in alleged Duterte-inspired killings
Source: KAMI.com.gh