The netizen who threatened to kill the President-elect Rodrigo Duterte offered a public apology to the incoming president and his supporters.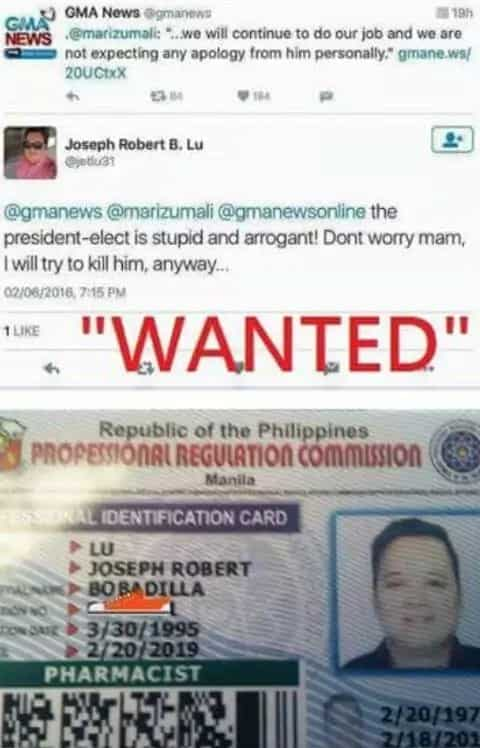 Earlier this month, Duterte was caught in a "catcalling incident" in one of his press conferences. He whistled to GMA News anchor Mariz Umali who was about to ask a question. In light of the incident, Joseph Robert B. Lu reacted on the issue saying that the "president-elect is stupid and arrogant!" He also said that Mariz Umali should not worry because he "will try to kill" the Incoming President.
The Duterte supporters were quick to talk back to Lu's comment and said that he should be punished under the law for threatening the upcoming President.
Today, Lu posted a video apologizing to the public. In the video, there are three men behind him wearing Duterte t-shirts who were Duterte supporters based in San Pablo, Laguna. Lu requested that the bashing and bullying against him will be stopped as the incident is already affecting his children. He also hoped that the posts about the incident will be deleted.
Since the incident, Lu's Twitter handle has been deactivated. However, this did not stop Duterte supporters from sharing viral posts pertaining to Lu's tweet.
Watch Joseph Robert Lu's public apology below:
[embed][/embed]
Source: Kami.com.ph